Rosa Khutor, Russia – At age 36, despite being the oldest contender in the field, Franconia, N.H.'s Bode Miller used first-place finishes in two out of three training runs to propel himself into the top position as a favorite to win the 2014 Olympic Men's Downhill. Come race day on Sunday, however, the crowd fell stunningly silent when despite a reputation for delivering results in marquee races, Miller crossed the finish line in sixth. As other racers came down the course Miller later slipped to a disappointing eighth, more than a half second behind gold medalist Matthias Mayer of Austria and well out of medal contention.
Mayer, whose best World Cup downhill result ever was a fifth-place finish, was not the only surprise in Sunday's downhill, as American Travis Ganong, who has never placed better than sixth in any World Cup discipline, rocketed to fifth place for Team USA, a  mere .31 seconds off the medal podium.
"I had no idea what I would feel like kicking out of the starting gate today. I just let myself relax and let my skiing take over," said Ganong, of Squaw Valley, Calif. "I had a lot of fun and it worked out. It was actually a lot more forgiving today. I was able to push hard from top to bottom and I felt great at the finish."
Ganong skied into the lead thanks to a strong performance on the top of the course but was then bumped by Norwegian Kjetil Jansrud, who took bronze behind gold winner Mayer and silver medalist Christof Innerhofer of Italy.
"My run was awesome. I did basically what I wanted to do. I pushed hard. I pushed huge off the jumps and had a smile on my face when I finished," Ganong explained. "I've been methodically building my career over the last four or five years in the World Cup and getting better and better each year and lowering my ranking and gaining more confidence. Now I'm at a point where I know my skiing's good and I can be relaxed. That's a really fun place to be because then you're just having fun every race."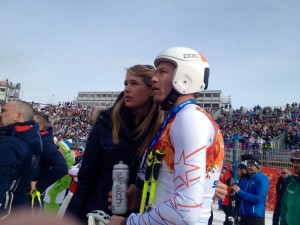 After taking last winter off from ski racing to build for the Sochi Games, Miller expressed his disappointment in the finish area beneath the Rosa Khutor downhill track.
"I would've loved to win. This is the premier event. I've thought about it quite a bit. I thought I had a good chance at it," admitted Miller, who started fast, but was already losing his time advantage when he took an incredibly tight line above the Bear Jump and plowed through a panel, causing him to lose speed on the flats toward the finish. "I was well-prepared. I skied well enough, but it just doesn't happen sometimes.
"I was disappointed not to have a better result next to my name. It's one of those days where it's hard to say where the time went, because I skied pretty well. I took a lot of risk and I made a couple small mistakes, but not really mistakes that cost you a lot of time," said Miller. "I have a lot of races ahead of me and I knew this could be a tough one to swallow today, having skied so well on the training runs, and then come in and be way out of the medals."
"I'm excited that Bode got this one out of the way," added U.S. Ski Team Head Coach Sasha Rearick. "He got the nerves out of the way, and now he's going to take his aggression to the next courses — that I'm confident on."
The next men's alpine skiing Olympic medal event takes place on Friday with super combined featuring reigning World Champion Ted Ligety. Miller, Andrew Weibrecht and Jared Goldberg will also start the race for U.S. Men, an Olympic first for Goldberg, of Holladay, Utah.
OFFICIAL RESULTS
2014 Olympic Winter Games
Sochi/Rosa Khutor, Russia – Feb. 9, 2014
Men's Downhill
Rank
Bib
Country
Name
Time
Difference
1
11
AUT
Matthias MAYER
2:06.23
2
20
ITA
Christof INNERHOFER
2:06.29
+0.06
3
8
NOR
Kjetil JANSRUD
2:06.33
+0.10
4
18
NOR
Aksel Lund SVINDAL
2:06.52
+0.29
5
7
USA
Travis GANONG
2:06.64
+0.41
6
3
SUI
Carlo JANKA
2:06.71
+0.48
7
14
ITA
Peter FILL
2:06.72
+0.49
8
15
USA
Bode MILLER
2:06.75
+0.52
9
9
AUT
Max FRANZ
2:07.03
+0.80
10
21
CAN
Erik GUAY
2:07.04
+0.81