Rosa Khutor, Russia – Over concerns for rider safety, Olympic snowboarders earlier forced Sochi organizers to implement change in the the Slopestyle course at Rosa Khutor Extreme Park. Now some athletes are calling on Olympic officials to postpone the Halfpipe medal contest, this time for performance reasons.
Snowboard athletes first called on New Zealand contractor Development Snowparks to improve the halfpipe's 22-foot walls following Saturday's practice. Now after damage resulting from practice sessions in daytime temperatures reaching the 50s, athletes across the board are complaining about the pipe's flat transition zone filled with loose, sugary snow that they criticize for hampering speed and performance, possibly a result of the earlier wall-cutting efforts.
Monday's scheduled practice in the halfpipe was postponed until evening to allow pipe cutters to improve conditions. Australia's Torah Bright, the reigning Olympic gold medalist, cut her training session short following a crash, calling conditions in the halfpipe "really harsh." American phenom Shaun White indicated that he cannot perform his best tricks in the current halfpipe, including his new cab double cork 1440, and teammate Hannah Teter – herself a two-time gold medalist – called for organizers to postpone the event until conditions improve.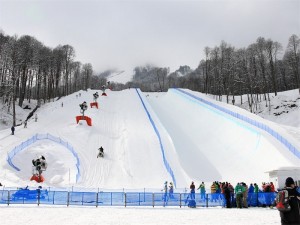 "They should push it back," Teter said Monday evening.
"What a lame showcase of snowboarding, and what lame way to treat the athletes," fellow American rider Davis told Yahoo Sports.
Similar problems plagued the Olympic halfpipe in the days leading up to competition in Vancouver in 2010, but a refreeze the night before the medal events salvaged conditions. Many athletes are blaming Sochi organizers for contracting with Development Snowparks to build the halfpipe instead of internationally recognized Snowpark Technologies of Verdi, Nev.
Development Snowparks CEO John Melville blamed the halfpipe's condition on both the weather and television crews, who he says prevented his staff from working on the pipe during the nearby moguls competition on Saturday night because of the noise from pipe-cutting machines.  He indicated that warm temperatures are expected to continue until after the Snowboard Halfpipe finals for both men and women, further hampering efforts to improve conditions.  Men's competition is scheduled for Tuesday, with the women set to drop in on Wednesday.
Athlete complaints about the halfpipe venue follow a wide range of concerns about the Russian venues ranging from huge cost overruns blamed on corruption to facilities still under construction as the games got underway last week.
"I didn't have expectations coming here," said American rider Arielle Gold. "But whatever expectations I had, this doesn't fulfill them."