Ashland, OR – On Monday Mt. Ashland launched "The Next 50 Years of Mt. Ashland" Campaign to raise funds to be used to improve services and create more events at the Southern Oregon community ski area.
The campaign officially launched on Monday on indiegogo.com, a crowd-funding website.  The indiegogo launch is part of a broader effort to seek community support for the ski area.
Located on the highest peak in the Siskiyous, Mt. Ashland has been a treasured community recreational facility since 1964. The ski area is owned and operated by the Mt. Ashland Association, a 501(c)(3) non-profit.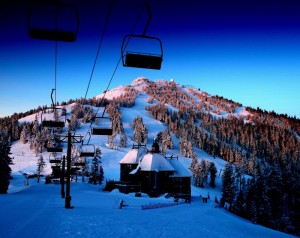 Last winter, the ski area did not receive enough snow to open for the season and was forced to take an emergency drought relief loan from the U.S. Small Business Administration to remain afloat. As a result, last spring the board directed a restructuring of the organization.
This summer, Mt. Ashland gathered information from the region's residents with a community survey. Based on the survey results, Mt. Ashland is implementing plans to improve each guest's experience at the area, and this campaign is intended to help fund some of these improvements. Several perks include the merchandise with the new Mt. Ashland logo.
"Mt. Ashland relies on the generous support of our community to ensure skiing remains affordable for residents of the Rogue Valley," said Michael Stringer, Development Director. "We are super excited to offer a wide range of prizes for every budget."