Beaupré (QC), Canada – An avid skier and former ski instructor at Mont-Sainte-Anne has sued the Quebec resort over a 2010 incident involving a wet snow gun.
Raynald Samson, of Beaupré, was skiing Mont-Sainte-Anne's expert La Crête run on Jan. 10, 2012 when he passed a snowmaking gun operating on the slope. When his skis suddenly ground to a halt, Samson fell to the ground. He says that he briefly lost consciousness.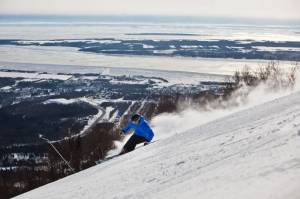 Samson's lawsuit contends that because the temperatures had risen above the freezing point the snow gun was blowing water upon the slope, not snow. He alleges that while in the ski patrol room following the incident he met another skier who encountered the same situation on La Crête. The lawsuit goes on to allege that following a third injury, Mont-Sainte-Anne officials closed La Crête for the day.
Samson, a carpenter, is alleged to have sustained a fractured left clavicle, whiplash and concussion in the incident, in addition to suffering back and leg pain. His lawsuit seeks a total of C$199,637 in damages from the ski area.