Donnelly, ID – Tamarack Resort cashed in a life line in 2010, when a local homeowners' association successfully petitioned a bankruptcy court to allow it to operate the beleaguered Idaho ski area. It's continued limited operations ever since, without access to a key terrain pod rendered irrelevant after a lender removed the chairlift that accessed that sector.
That's about to change this winter, although in an admittedly limited way. Tamarack will reopen an upper 100-acre portion of the Wildwood trail system on the northern section of the mountain when natural snow conditions allow, augmenting existing out-of-bounds terrain at the south side of the resort. But you're need to get there via your own naturally attached quads.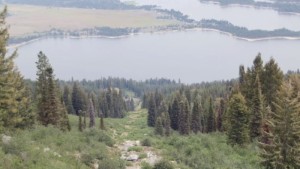 "The Wildwood trails have been untouched by skiers and riders for nearly six years. Reopening this terrain to guests willing to take the short hike and 'earn their turns' is a great way to create a new ski experience," said Brad Larsen, general manager of Tamarack under the auspices of Vancouver, Canada-based Replay Resorts, which replaced the Tamarack Municipal Association last December as resort manager for current owner New TR Acquisitions Co. LLC.
The Wildwood pod will be accessed via a five-minute hike or skin from the top of the resort's Enigma run, and after their descent skiers and riders will still be able to return to the resort's base area.  Only the sector's egress route to the resort's Waltz trail will be groomed. Tamarack Ski Patrol will monitor the area and provide rescue services as needed.