Lakewood, CO – Record-breaking snowfall blanketed Northeastern U.S. cities last winter, keeping people shoveling out their driveways and clogging the region's roads, and in the process preventing many from driving to the mountains. In the western U.S., persistent drought and warm temperatures had many skiers thinking about a round of golf instead.
These are the primary factors that led to a five percent drop in skier visits last winter despite a slowly improving economy, according to data collected by the National Ski Areas Association (NSAA).
According to the NSAA, U.S. ski areas tallied an estimated 53.6 million skier and snowboarder visits during the 2014-15 season— down five percent from the 56.5 million total logged in 2013-14, and down 3.8 percent from the five-year industry average of 55.7 million skier visits.
Nationally, snowfall was 28 percent below average last winter—particularly on the West Coast—and especially frigid temperatures in the Midwest and the East, along with sizable snow storms in the Northeast, impacted the ability of skiers and snowboarders to even get to many ski areas. In the 24 seasons of available NSAA's Kottke End of Season Survey data (1991-92 to 2014-15), last winter is estimated to have had the lowest snowfall on record for half the country (the Pacific Southwest, Pacific Northwest, and Rocky Mountain regions), and the second-lowest snowfall overall in the past quarter-century. By contrast, snowfall was slightly above average in the Northeast and Southeast regions.
"The good news is that despite the vagaries of Mother Nature, ski areas have adapted and responded with dramatic expansions and investments in energy-efficient snowmaking," said Michael Berry, president of NSAA. "Even in a season where snowfall is off, our guests still get an incredible skiing or riding experience."
Placed in context, 2014-15 skier visits nationally were up 5.1 percent from a recent low of 51 million visits in 2011-12, and down 11.5 percent from the industry's record high of 60.5 million visits from the 2010-11 season.
NSAA's survey results also showed strong growth in season pass sales, which were up 6.2 percent from the previous season—an important indicator in the public's demand for skiing and snowboarding. Furthermore, international visits continued to grow, with double-digit growth over the previous season. This was especially encouraging, because this growth occurred against the backdrop of a strong dollar, which often translates into fewer international visits. In 2014-15, international visits accounted for six percent of all skier visits to American ski areas, up from 5.6 percent the winter before.
REGION BY REGION
Last season, the Northeast region was barely off the previous season's strong skier visits numbers by 0.8 percent, buoyed largely by Vermont's record-setting 4.6 million skier visits. Snowfall, however, didn't tell the whole story. Throughout the Northeast, regular thaws and refreezes that typically mar mid-winter conditions were conspicuously absent throughout the core winter months.
"A near-perfect winter in Vermont allowed for both early openings and extended season operations, leading to the best season on record," said Vermont Ski Areas Association (VSAA) President Parker Riehle. "The abundant snowstorms and our statewide snowmaking prowess created ideal conditions for visitors, with widespread press coverage that helped us get the word out that Vermont was the place to ski and ride this season."
Vermont's strong ski season delivered ancillary benefits as well. The state's economy netted nearly $220 million for the state's coffers in winter season revenues from the sales tax and the rooms & meals tax. Overall, those revenues increased four percent, with the rooms & meals tax revenue alone topping last season by eight percent.
Nearby New Hampshire also recorded a strong season. While not record-breaking, the state's more than 2.57 million visits (alpine, cross-country and tubing) combined to deliver its fourth best season despite rain falling in many areas over the all-important Christmas holiday week. New Hampshire's alpine ski areas recorded 2,311,095 visits, which was an increase of 1.7% over 2013-14, and a gain of 5.1% over the 10-year average.  Cross-country ski areas welcomed 138,944 visits last year, ranking 12th historically.  Although visits were down 5.6%, 2014-15 New Hampshire cross-country visits were still 3.5% over the 10-year average.  Finally, the state's 11 ski area tubing centers posted their second best overall season ever, with 123,959 visits, a 3.3% jump over the previous winter and 14% higher than the 10-year average.
"The fact that our winter visits ended up fourth overall and fourth for downhill skiing visits clearly demonstrate that there was pent up demand by the time March and April rolled around," observed Jessyca Keeler, Ski NH executive director. "Although the season started with a bang due to the big Thanksgiving snowstorm, our ski areas faced some pretty big weather challenges during prime holiday periods that kept skiers and riders at bay.  By late February until resorts closed in the spring, however, many of our ski areas welcomed double-digit gains over last year. I think people were excited to finally get out of their snowed-in homes and enjoy some spring skiing."
North of the border and outside the scope of NSAA's data gathering, ski areas in Quebec tallied nearly 5.9 million skier visits last winter, down 2.7 percent over the previous season, according to data released by the Quebec Ski Areas Association (ASSQ).
NSAA reports that the Southeast region was also down slightly by 1.4 percent over the previous winter, while still posting its 10th best season in the past quarter century. The Midwest region, which suffered from brutal cold spells throughout the winter, dropped 9.3 percent from the previous season.
Results from the critical Rocky Mountain region were well above the region's five-year average, even though numbers dipped in both Colorado and Utah year-to-year. The Rocky Mountain region as a whole was down slightly from the previous season by 2.1 percent, but nevertheless posted its sixth best season attendance on record.
Within the region, Colorado is difficult to measure due to the huge presence of Vail Resorts in the state. The industry trade group Colorado Ski Country USA (CSCUSA), to which Vail Resorts does not belong, announced at its annual meeting in June that its 21 member resorts totaled 7.1 million in 2014-15, off by a little more than one-half of one percent compared to the record-setting previous winter and up over its five-year average by 6.5 percent.
"Skiers took advantage of the improving economy and Colorado's reputation for dependable snow conditions to explore our variety of world-class and artisanal resorts," stated Melanie Mills, president & CEO of Colorado Ski Country USA. "We're thrilled with this year's numbers, especially in a season that saw snow totals that were 36 percent below the 10-year average during the core of the ski season, as it's a real testament to the caliber of Colorado Ski Country USA's brand of resorts and the dedication of our guests."
CSCUSA's numbers don't include the four Vail Resorts properties in the state that are some of the state's busiest — Vail Mountain, Beaver Creek, Keystone and Breckenridge. We reached out to Vail Resorts for their skier visit data for their Colorado ski areas only, but Vail Resorts Vice President of Corporate Communications Kelly Ladyga declined.
"We no longer break out skier visits by state — we haven't for the last several years — so unfortunately we can't provide you with those figures,"  she explained.
Overall results from Vail Resorts as a whole (which also includes ski areas in Utah and drought-plagued California) show skier visits that dropped 1.4% year on year.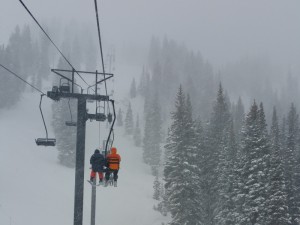 Like Colorado, neighboring Utah was also plagued by warm January temperatures and a dearth of natural snowfall. According to the National Weather Service, Utah's statewide annual snowfall last winter was only 41 percent of average. Even so, the Utah's Alta Ski Area received the most snowfall of any U.S. resort when measured at mid-mountain, according to First Tracks!! Online snow statistician Tony Crocker.
"Alta Ski Area has measured near the Collins mid-station at 9,600 feet since 1980-81.  2014-15 snowfall there was 323.5 inches, lowest of the 35 years measured there," Crocker explains. "Jay Peak in Vermont measured 374 inches at the top and 214 at the base, so I count 294 mid-mountain for Jay. Alyeska (Alaska), like most West Coast areas, was plagued by a high rain/snow line in 2014-15.  The top of Alyeska's lift service at 2,750 feet had 478.3 inches of snow while mid-mountain at 1,500 feet had only 176 inches.  The long term relationship of mid to top at Alyeska is 79%, so the 37% this year tells you how much rain there was."
A significant and inordinately heavy, wet snowstorm thankfully arrived in Utah just before Christmas, providing the perfect base building material to open additional terrain for holiday guests. In fact, Utah ski areas had recorded between 100 percent and 130 percent of average snowfall as of January 1, 2015, before Mother Nature turned off the spigot.
When winter 2014-15 was all said and done, Utah logged just over 3.9 million skier visits, down 4.9 percent from the previous season's tally of over 4.1 million, according to numbers released by the Utah Ski and Snowboard Association (Ski Utah). Last winter's number also represents a 2.2 percent decrease from Utah's five-year average of just in excess of 4.0 million.
"Utah's resorts did an outstanding job, both getting the word out about early season snow conditions and ensuring that guests had an exceptional experience all winter," said Ski Utah President Nathan Rafferty.
The Rocky Mountain region's big winner was New Mexico,  where the state's 11 ski areas saw a 19.4 percent increase in skier and snowboarder visits in 2014-15 compared to 2013-14, although the latter was a winter of intense drought throughout the state. At just over 900,000, these skier days contributed to a $98 million increase in local economic activity, according to the trade group Ski New Mexico.
The net gain of 176,000 visits represents the second-highest number for the state in the past decade. Ski Apache, in the southern part of the state, nearly doubled its skier visits year on year. Surveys taken by the resort showed that 65 percent of visitors were from out of state. Average snowfall in New Mexico in 2014-15 was 136 inches, 12 inches above the five-year average. But snow came early, locking in conditions for much of the winter and encouraging guests to travel to the state.
"The perception of snow is sometimes more important (than the total amount)," said George Brooks, executive director of Ski New Mexico. "Most people would be surprised there was only 12 more inches of snow overall. But if it snows often, there's that perception of more snow."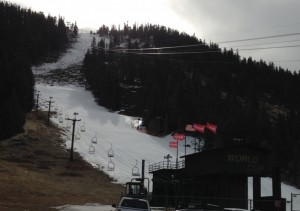 NSAA's Pacific Southwest, which includes the drought-ridden states of California, Nevada and Arizona, was down 6.4 percent year on year, and the Pacific Northwest fell by 36.3 percent over the previous season. Both declines were driven largely by weather, as when it actually did snow rain levels were often very high. A number of ski areas in both regions actually threw in the towel early on either the entire season, or until snowflakes and colder weather returned.
Michael Reitzell, President of the California Ski Industry Association which represents most ski areas in California and Nevada, estimates his membership's skier visits for winter 2014-15 at just over 4.6 million. That may be a record low, but putting that in precise context can be problematic.
"It is difficult to compare because the last four years have been quite an aberration," Reitzell acknowledged. "2004-2005 and 2010-11 were the biggest years at approximately 8.1 million visits.  On average, from 2004-05 through 2010-11, the average visits were approximately 7.5 million.  The last four years are around 5.6 million, for obvious reasons."
Pacific Northwest Ski Areas Association President John Gifford blames snowfall that dipped to as low as 25 percent of normal in parts of Oregon for his organization's tally of approximately 1.6 million skier visits in both Oregon and Washington last winter, a 41 percent drop from the roughly 2.6 million counted a year earlier, which holds close to the 10-year average of those two states combined. However, Gifford pointed out that attendance-wise, the winter of 2004-05 was actually worse, with only 1.4 million skier visits recorded in the two states.