Carrabassett Valley, ME – With temperatures dipping down into the low 20s overnight, and a heavy frost covering surfaces at higher elevations, Sugarloaf took the opportunity to conduct an early season test of its snowmaking system this morning, lighting up 10 snow guns on the northwestern Maine ski and snowboard resort's upper mountain Tote Road trail.
While the cold temperatures provided snowmakers the opportunity to turn water in to snow, the bigger reason for this morning's activity was to flush out the lines and test the snowmaking system's pumping equipment to ensure that everything is in top working condition before the start of the season.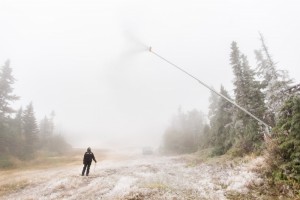 "The snow won't last more than a day," said Dan Barker, Director of Snow Surfaces. "But, regardless of the temperature, we would be testing the entire system anyway. If it's going to be cold, I would just as soon be making snow."
As a continuation of the ongoing Sugarloaf 2020 Ten-Year Road Map, which outlines the resort's vision for development, Sugarloaf invested in more snowmaking system improvements this summer, with upgraded hydrants and new snowmaking pipe in various locations around the mountain.
The resort will celebrate its annual "Homecoming Weekend" on October 10-11, and is scheduled to open for its 65th winter season in early to mid-November.