Hancock, MA – "Bend ze knees, five dollars pleeze" was the mantra of the typical ski instructor of the 1950s and 60s, typically someone with hair like Stein Eriksen's and a matching Norwegian accent. But today's ski and snowboarding instructors range in age from 14 to 83 and don't necessarily have to be black diamond level skiers.
The Fairbank Group resorts – Jiminy Peak in western Massachusetts, Bromley in the Green Mountains of Vermont, and Cranmore Mountain Resort in the White Mountains of New Hampshire – have announced ambitious plans to fill 250 ski and snowboard instructor positions by the start of the ski season in late November.
The common misconception is that skiers or snowboarders have to be experts to become instructors. The reality is that they can start teaching in assistant positions at 14 years of age with intermediate skiing or snowboarding skills.
What's more important is how they relate to people.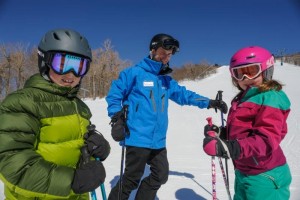 "If a potential instructor arrives highly motivated and with an engaging personality, we will teach them to ski or snowboard better through the paid training we provide," said Bromley instructor Burleigh Sunflower, the resort's director of snowsports. "We're looking for people passionate about the sport, who love being out on the hill, and who want to share the sport with others. The fact that instructors are paid, are assigned classes based upon their availability, and usually get first tracks on powder mornings, makes instructing even more appealing."
The majority of instructors at the three resorts are part-timers teaching on weekends and holidays to supplement their costs for gas, food and lodging. Depending upon seniority, their families also receive discounted, or in some cases, free skiing.
At the three resorts, instructors create a fun learning environment using the terrain-based learning (TBL) technique that relies upon various terrain features to teach beginners how to stop and feel the sensations of their skis or snowboard on the snow.
"We eliminate the fear factor and create an environment that builds confidence," according to Jiminy Peak's Sherrie Bradway, director of snowsports. "Instructing provides people the opportunity to be on the snow, outdoors, and active during the winter. What's more, you can make money doing it. We pay people for doing what they already love to do."
There are other reasons why the instructor lifestyle is so appealing.
"Cranmore has been around for almost 80 years and some of our instructors have been teaching for decades," said Karen Dolan, Cranmore snowsports school director. It's not uncommon for instructors to teach multiple generations and make lifelong friends among our guests who treat instructors like a member of the family. Where else can you work in a beautiful environment and improve your own skiing or riding proficiency while taking someone brand new to winter sports and changing their lives forever?"
For high schoolers, Dolan believes a ski instruction job on the resume looks great on college applications. "We're teaching them life-long job skills, outdoor safety, and people skills. I may be biased, but it's certainly a lot cooler than flipping burgers."