Sandy, UT – The 8th annual  Utah Snow & Avalanche Workshop (USAW) is set for October 31 at the Southtowne Expo Center in Sandy, where Utah's avalanche community will team up with snow professionals from around the west to share avalanche knowledge and history.
This professional development seminar taps into the vast amount of avalanche knowledge in the intermountain avalanche community. You'll learn from and network with forecasters, patrollers, snow scientists, highway avalanche crews, search & rescue personnel, mountain guides, ski industry manufacturers, backcountry skiers & snowboarders, snowmobilers, avalanche scholars, and more.  The format will be much like the International Snow Science Workshop (ISSW), with 15-minute presentations followed by Q&A as well as panel discussions.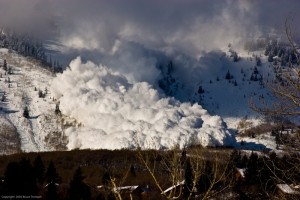 The morning sessions will be open to snow safety professionals only and will feature an exchange of resort, highway, and backcountry lessons, ideas, and theories led by presentations from local and regional experts. The afternoon will be open to the public and will feature presentations of more general interest to backcountry users.
There will be a gear raffle with gear donated by the sponsors and all proceeds used to pay for avalanche forecasting in Utah this winter. A happy hour will follow the sessions and provide a great opportunity to network and check out sponsor booths with the latest gear.
Sales of $27 advance ticket at utahavalanchecenter.org/event/2015-utah-snow-avalanche-workshop-public-session will end at 8 a.m. MT on Oct 29.  After that, you can buy tickets at the door for $3 more.  If you buy tickets online, your name will be on the will call list. Click here to sign up for the pro session, and note that you must be an avalanche professional to attend the morning session.
2015 USAW Public Session Schedule:
1 p.m. to 5 p.m. Public Session
1-1:05 p.m. Welcome
1:05-1:35 p.m. Education Levels Framework- Update of avalanche education paths, KBYG viddy rollout- Paul Diegel, Craig Gordon, Jaime Musnicki AAA
1:40-2:15 p.m. Backcountry Roundtable/Backcountry Responsibility Objective- Trends in backcountry users and their level of responsibility to each other- Drew Hardesty – Utah Avalanche Center; Steve Scheid -USFS, Laurie Delaney -UDOT , Jay Pistono -Teton Pass Ambassador, Jon Schofield- Dawn Patrol Skier/Splitboarder
2:20-2:40 p.m. Climate Change and Variability: Snowy and Not So Snowy Projections for the 21st Century and the Winter of 2015–16- Cutting through the hype and taking a look at what we can and can't expect this winter and in the coming decades- Jim Steenburgh
2:40-3:00 p.m. Break
3:05-3:40 p.m. Jaws Avalanche Accident Case Study-12.24.2014– A summary of the Christmas eve slide in Jaws from both the victim and rescuers perspective of the events that led up to the avalanche, the ride, rescue efforts, and lessons learned- David Brown and Mike Hales
3:45-4:05 p.m. Magoo, Me, and You: Developing Expert Intuition in the Backcountry– Research shows that most of our decisions are unavoidably influenced or even determined by subconscious cognition. In the backcountry, this tendency often shows itself as heuristic errors or the illusion of skill. We can, however, develop expert intuition by relying on practices that increase feedback reliability and quality- Blase Reardon
4:10-4:30 p.m. Proceed with Caution: Traveling to Ski the World Without Avalanche Forecasts- While enticing to visit, most of the world's mountains don't have experts trying to keep you on top. Safely climbing and skiing objectives outside the forecast zones is possible. Brody Leven presents practical, real-world approaches to worldwide skiing. 
4:30-5:00 p.m. Forecasting then, now, and in the future- Bruce Tremper