Arapahoe Basin, CO – Arapahoe Basin announced today that they will open for the 2015-16 ski and ride season on Thursday, matching the opening day of neighboring Loveland Ski Area.
"We are going to open tomorrow, Thursday, October 29 at 9 a.m.," A-Basin COO Alan Henceroth confirmed this morning.
Henceroth elaborated on the variables that go into reaching a decision on whether or not to open, and it's quite a complicated formula.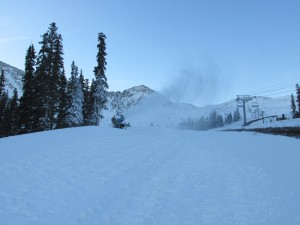 "As we get close to opening, we spend a lot time looking at the snowmaking numbers, pumping rates, stream flows, reservoir recharge rates, temperature forecasts, etc. We try and figure out just when opening can occur," Henceroth explained. "By this past Sunday we were thinking we could get open by Thursday or Friday if everything went well. Well, conditions since then have been ideal and we received several more inches of snow. As of this morning we have enough snow, so tomorrow it is."
Henceroth added that between now and 9 a.m. tomorrow, crews will be hard at work grooming, getting ski patrol and lifts ready, and conducting "general ski area work" to ensure a smooth opening.
Lift ticket, season pass and rental facilities will open at 8 a.m. tomorrow, with the first riders loading the Black Mountain Express lift at 9 a.m.  Lift tickets will be at the fall 2014-15 rate of $76 for a full day and $64 for a half day, with full day youth (ages 15-18) $64 and full day child (ages 6-14) $36. Those rates will be in effect at Arapahoe Basin through December 18.
Opening day clients will find features set up in A-Basin's High Divide Terrain Park on opening day, and the terrain park crew will decide exactly what those features will be once the snowcat drivers finish pushing out the snow today.