Park City, UT – Historic Park City is seeking participants for its annual Electric Parade scheduled for November 28. Participants are invited to light up their vehicles in this Utah ski town, turn up the volume to holiday music and join the festivities as spectators take to Park City's Main Street for a colorful glow of holiday cheer.
$500 in cash prizes will be awarded in four categories, awarded by a panel of local judges. There is no entry fee to enter the Electric Parade.
"Saturday, November 28, Small Business Saturday, is the perfect day to launch the Holiday season in Historic Park City," said Alison Butz, Executive Director of the Historic Park City Alliance (HPCA). "The Electric Parade will immediately follow the lighting of the official Town Christmas Tree in Miners Park and the lighting of the Main Street lights. We've seen increased attendance the last few years. We'd love to see float participation grow this year."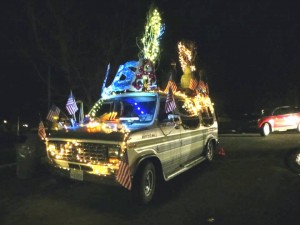 The parade, which is free and open to the public, is a carnival of glittering cars, trucks, trolleys, bicycles and other creative vehicles that celebrates the kickoff of the holiday season in Park City.
Participants will meet at City Park on November 28 at 5:30 p.m. and depart for Main Street at 6 p.m. The route will proceed up Park Avenue to the top of Main Street, down Swede Alley, across Heber Avenue and conclude on lower Main Street. Ideas on how to decorate your vehicle using portable batteries or car batteries are available online. There is no entry fee to participate, but participants must register by November 27 by emailing Meisha Lawson Ross at info@meishalawson.com.
Categories and prizes include:
"Mayor's Award"/Best of Show: $200
"Power to Make it Happen"/Best Use of Lights:  $100
"Entrepreneurs Unite"/Small Business Award: $100
"Holiday Time in the Mountains"/Best Christmas Spirit: $100
Holiday festivities continue in Park City through the holiday season and include free parking on Main Street and a Window Display Contest through December 18. A strolling Santa and carolers will spread holiday cheer on select dates through December 23.