Montreal (QC), Canada – From its humble beginnings being sold out of the back of a car, to the innovative Canadian ski style icon that it is today, Orage's roots in Montreal run deep. It's therefore fitting that the ski apparel brand has opened its first flagship retail store in the city at 1227 rue Rachel Est.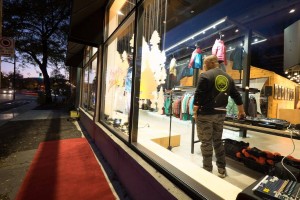 Launching as an experience rather than a traditional brick-and-mortar shop, the new space, called Le Chalet, mixes boutique and showroom together to tell the Orage story. With an approach focused on engagement, customers are welcome to meet with brand artisans to learn about Orage and connect with the product in a genuine environment. Product orders are placed on iPads for delivery right to the customer's home, allowing Orage to minimize its footprint and better manage inventory while focusing solely on creating its brand.
Le Chalet is a 1,000-square foot space that reflects modern mountain culture. The interior features crisp whites and warm woods with soaring ceilings and plenty of natural light spilling in through large windows to showcase a curated selection of the company's three-season catalog. The 2015-16 line for men, women and kids is currently on display, including the Ski and Transition collections of jackets, pants and layering items, along with lifestyle clothing and accessories.