Salt Lake City, UT – Think you have the photography skills to compete against the world's top professional ski photographers? Ever dream of shooting in the famed Cottonwood Canyons of the Wasatch Mountains with some of the world's best skiers? If so, the Ski City Shootout is the place to prove it and do it, and applications for photographers are being accepted now until noon on December 1.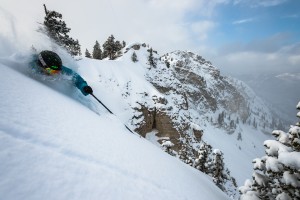 The 9th Annual Ski City Shootout, February 22-27, 2016, is again pairing up eight of the top professional photographers with pro skiers to battle it out for more than $11,000 in cash prizes and bragging rights as they attempt to capture the magic of Ski City (a.k.a. Salt Lake) and the Cottonwood Canyon resorts on film and sensor. The Shootout is held over a four-day period, with one day dedicated to each Cottonwood Canyon resort: Alta, Brighton, Snowbird and Solitude. Imagery is submitted at the end of the week in four different categories, then showcased at the always popular Shootout Award Party where the winners are announced and awards presented.
Some things have gone away, and some things have changed this year. The Facebook Category has been retired, but the prize money has been added to the Athlete's Choice Category. Now 1st place gets $800 and a full-page ad in POWDER Magazine's Photo Annual, 2nd place gets $700, and 3rd place $500.
Urban Meets Mountain now has a new name: Off the Mountain. It will be a requirement for the eight professional photographers participating, and the winner in this category will receive $1,000. Also, this year a Best of Show photo will be chosen from one of the eight photographer's porfolios by the Ski City Shootout Panel of judges to win $1,000.
To see all the information on the 2016 Ski City Shootout, from categories to rules and regs, visit www.visitsaltlake.com/skicity/shootout. Prospective photographers and athletes can apply at www.visitsaltlake.com/skicity/shootout/entry-form. Again, applications are being accepted until midday December 1st.