Lake Louise (AB), Canada – Vail, Colo.'s Lindsey Vonn collected her 16th career World Cup victory at Lake Louise in the first of two scheduled downhills on Friday, but the run was not without pure athletic spectacle to avoid serious disaster. Vonn clocked the fastest splits all the way to the midsection on course where she decided to take a little extra risk with a straighter line, and that's where she nearly lost it all.
"I came in (to Fish Net) with a really direct line – probably a little bit too direct, and I caught my edge funny. I did the splits. I thought I was going down, then I somehow managed to stay on my feet," said Vonn. "When I realized I was still in the course, I just got back into my tuck and tried to make up as much time as I could on the bottom. That was not planned. I should probably not do that tomorrow."
Vonn's smile in the finish area told the crowd that one didn't come as easily as the final time indicated.
Vonn lost her 0.40-second advantage over Cornelia "Conny" Huetter of Austria with the critical mistake, but she recovered the lost time and added even more with precise gliding to the finish, ultimately outpacing the Austrian by a truly impressive 0.58 seconds.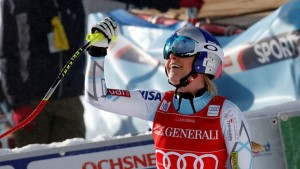 For Vonn, the winningest woman in World Cup history, another victory at Lake Louise isn't simply an additional tally mark on her record. She finds value in each and every race at the Canadian resort, even those that haven't ended on the podium.
"I think last year's win was probably the most significant for me coming back from two injuries and being able to win again was an incredible feeling. This year it's just as incredible – I kind of feel old. All the other girls on the podium with me are very young," noted Vonn. "I kind of felt relieved to be on the top step of the podium again today and to reassert myself as someone who's not going away in the speed events."
The 31-year-old speedster was flanked on the podium by two Austrians, the 23-year-old Huetter and 24-year-old Ramona Siebenhofer. It was Huetter's second podium result of her career and the first for Siebenhofer.
"The summer preparation went really well and like in the first two training runs, I tried to keep going forward and do my best today and that was a pretty good run," said Huetter. "The downhill here is a very speedy one and I like it."
Vonn's teammate Stacey Cook had an equally horrifying mishap at high speed when she caught her edge heading into Timing Flats, but she also pulled off a miraculous recovery and held on to finish in fifth.
"I was coming around the last corner, I was really feeling it and then all I saw was fence. I just kind of got caught up in some old tracks, and I was really just trying to let my skis go, and they went in the wrong direction. There are mistakes that you make from taking risks and there are mistakes you make from a bad plan. And this was a mistake from taking risks, so I have no regrets," said Cook. "Typically the first race is always the weaker one for me. I like more runs on the track – that's kind of my thing – I start having more and more fun. So hopefully tomorrow is solid from top to bottom."
Other U.S. Ski Team finishers in the points included Laurenne Ross in 19th, Alice McKennis in 25th, and Jackie Wiles rounding out the scoring in 30th. Salt Lake City's Breezy Johnson, who was racing her first World Cup race, finished 41st. Anna Marno, Steamboat Springs, Colo., was 45th.
The women will get a rematch on the track today for the second of two downhills scheduled at Lake Louise, again beginning at 12:45 p.m. MT.
OFFICIAL RESULTS
FIS Alpine Ski World Cup
Lake Louise (AB), Canada – Dec. 4, 2015
Women's Downhill
| | | | | |
| --- | --- | --- | --- | --- |
| Rank | Nation | Name | Time | Diff. |
| 1 | USA | VONN Lindsey | 1:50.50 | |
| 2 | AUT | HUETTER Cornelia | 1:51.08 | +0.58 |
| 3 | AUT | SIEBENHOFER Ramona | 1:51.57 | +1.07 |
| 4 | FRA | BAILET Margot | 1:51.66 | +1.16 |
| 5 | USA | COOK Stacey | 1:51.77 | +1.27 |
| 6 | SUI | SUTER Fabienne | 1:51.90 | +1.40 |
| 6 | SUI | GUT Lara | 1:51.90 | +1.40 |
| 8 | ITA | FANCHINI Nadia | 1:52.09 | +1.59 |
| 9 | ITA | STUFFER Verena | 1:52.20 | +1.70 |
| 10 | AUT | VENIER Stephanie | 1:52.25 | +1.75 |