Val d'Isere, France – Lindsey Vonn's bid for a record-tying downhill victory hit a speed bump on Saturday in Val d'Isere.
Vonn, the current overall World Cup leader, was .13 faster than Switzerland's Lara Gut at the first split time when she hit a bump midway down the Audi FIS Alpine World Cup downhill course and briefly became airborne. She eventually landed and skied safely off the course for a DNF, ending her bid for a record-extending 72nd World Cup win and record-tying 36th downhill victory.
By winning the race, Gut moved to within two points of Vonn in the overall World Cup standings after winning for the second straight day at Val d'Isere to complete a sweep of the 60th Criterium de la Premiere Neige.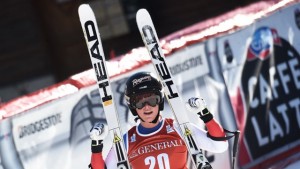 "This is my third win in Val d'Isere and it's not by chance. This race is a bit of fresh air for me. I feel good here," Gut said at the finish. Her first World Cup downhill victory came in December 2012, also in Val d'Isere.
Gut's countrywoman Fabienne Suter finished second, followed by Canadian Larisa Yurkiw in third.
"I made a few mistakes but it was good enough. I'm especially happy to make a podium in such a classic stage of the circuit. The ski conditions were exceptional," Yurkiw commented.
Laurenne Ross, of Bend, Ore., led a solid showing by the U.S. women in 10th, followed by Alice McKennis (Glenwood Springs, Colo.) in 12th, Stacey Cook (Mammoth Mountain, Calif.) in 16th and Jackie Wiles (Aurora, Ore.) in 17th.
"I kept my speed going and tucked as much as I could and I'm happy with it, given how my body is feeling right now," said Ross, who dislocated her shoulder in a finish line tumble in Thursday's training run.
Wiles, the youngest member of the women's speed team, scored her third career World Cup top-20 downhill result, and continues to gain confidence from her skiing and teammates in her third World Cup season.
"I'm really lucky to be with the group of girls that I'm with," Wiles said. "They're all amazing skiers. I think we have the best speed ski team in the world right now. So for me to be a teammate of theirs and learn from everything little thing they do and keep growing and learning from them, I'm in a great position right now."
Ross echoed the outstanding dynamics of the women's speed team heading into the holiday break.
"We all had really good downhill runs yesterday," Ross said. "We need to clean things up a little bit, but as a group we're really pushing each other and excelling together and its cool to have that dynamic and push us in the right direction."
A number of U.S. athletes are now heading home for the holidays, including Ross, who is excited to just get out and ski with family and friends before returning to Europe for downhill and super G events in St. Anton, Austria, Jan. 7-10.
"I'm home in the U.S. for 10 days," Ross said. "I'm pretty psyched to go back to some powder and do some free skiing … spend some time with family and friends and getting to relax a little bit."
Meanwhile, Vonn will have little time to relax as she headed to Courchevel, France, for today's giant slalom and a shot at her 73rd World Cup Victory. Vonn will also race in St. Anton and try to matching Austrian Annemarie Moser-Pröll's record of 36 World Cup downhill wins. Last season, Vonn broke Moser-Pröll's career wins record of 62. Vonn also has her sights are set on the men's record of 86 World Cup wins held by retired Swede Ingemar Stenmark.
OFFICIAL RESULTS
FIS Alpine Ski World Cup
Val d'Isere, France – Dec. 19, 2015
Women's Downhill
| | | | | |
| --- | --- | --- | --- | --- |
| Rank | Name | Nation | Time | Diff. |
|  1 | GUT Lara | SUI |  1:44.51 | |
|  2 | SUTER Fabienne | SUI |  1:44.67 |  +0.16 |
|  3 | YURKIW Larisa | CAN |  1:44.92 |  +0.41 |
|  4 | HUETTER Cornelia | AUT |  1:44.94 |  +0.43 |
|  5 | WEIRATHER Tina | LIE |  1:45.08 |  +0.57 |
|  5 | SUTER Corinne | SUI |  1:45.08 |  +0.57 |
|  7 | SCHMIDHOFER Nicole | AUT |  1:45.40 |  +0.89 |
|  8 | PUCHNER Mirjam | AUT |  1:45.43 |  +0.92 |
|  9 | MIKLOS Edit | HUN |  1:45.45 |  +0.94 |
|  10 | ROSS Laurenne | USA |  1:45.48 |  +0.97 |