Houghton, MI – Cross-country ski racers from around America will converge on Michigan's Upper Peninsula as Michigan Tech University Nordic Training Center in Houghton will play host to the U.S. Cross Country Championships presented by L.L.Bean January 3-9. The U.S. Ski and Snowboard Association (USSA) has confirmed the event after recent snowfall in the Keweenaw Peninsula allowed organizers to prepare trails.
It's the second straight year Houghton has held the U.S. Championships, with more than 300 athletes expected to compete for national titles. Junior, collegiate and professional skiers from across the nation will battle for the podium in addition to earning a coveted spot on one of USSA's international racing trips: U23/World Juniors and the U18/Scando Trip, as well as spots for the Youth Olympic Games to be held in Lillehammer, Norway in February.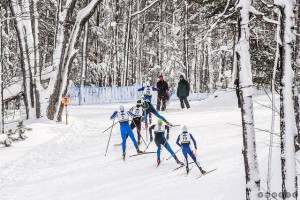 Currently the courses have a strong, icy base with two to four inches of packed powder on top, making most of the trails able to have a classic track set to a normal depth.
According to the race organizers at the Michigan Tech Nordic Training Center, the trail system is currently in great shape and feels like midwinter skiing with mild weather. They are snow farming in case they need to patch sections of trail.
Final course logistics are pending and there is a possibility of a racecourse loop change. Some trails may also be closed for training days if the course needs to be preserved.
The U.S. Cross Country Championships also marks the beginning of Period II for the SuperTour races with many of the tour leaders competing including Alaska Pacific University Nordic Center's Chelsea Holmes and Becca Rorabaugh, and Craftsbury Green Racing Project's Caitlin Patterson. The leaders for the men include University of Colorado Ski Team Mads Stroem, and Alaska Pacific University Nordic Center's Scott Patterson and Reese Hanneman.
2016 U.S. Cross Country Championships
Sunday, Jan. 3
Men's 15k individual start classic
Women's 10k individual start classic
Monday, Jan 4
Freestyle Sprint
Thursday, Jan 7
5/10/20/30k Mass Start Freestyle
Saturday, Jan 9
Classic Sprint