Snowbird, UT – Two years in the making and decades in planning, Utah's Snowbird Ski and Summer Resort will unwrap a special Christmas gift to its guests on Saturday when it officially opens its new building atop Hidden Peak.
An original vision of Dick Bass and Ted Johnson when they founded Snowbird in 1971, The Summit realizes their dream of a mountaintop oasis available to year-round guests at Snowbird. The 23,000-square foot structure will offer indoor and outdoor dining options along with a retail outlet and a Snowbird information kiosk.
"Skiers and riders all over the world have been anxiously awaiting the opening of The Summit here at Snowbird," said Bob Bonar, President of Snowbird. "This new year-round guest facility will provide stunning 360-degree views of the Wasatch Mountains and offer guests authentic French rotisserie cooking from an internationally inspired menu created by executive chef George Lackey."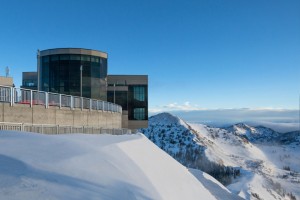 The Summit at Snowbird is the crown jewel of an extensive $35 million capital investment project implemented by the resort for the 2015-16 ski season that also includes an extensive remodel of The Cliff Lodge, a new RFID ticket system and increased snowmaking capabilities. Access to The Summit is provided via the Aerial Tram, allowing guests the option to visit the facility on foot or skis. The main level of The Summit debuts new amenities for Snowbird winter patrons such as breakfast and lunch menus, new restrooms to replace those previously housed in a temporary building long ago turned permanent, and an informational outlet for weather reports and ski terrain navigation.
The second level of the structure has private dining space for weddings and business functions as well as additional restaurant seating. Both public and private events are supported by a new commercial kitchen located in the base of the building.
The official grand opening of The Summit will take place at 10 a.m. on on Saturday. Foot passenger Aerial Tram tickets that day will cost $17 per person.