Red River, NM – The inaugural Red River Skijoring races will be held on Saturday and Sunday, Jan. 16-17 in conjunction with the annual Red River Winter Carnival.  The races start each day at High Noon on River Street in downtown Red River, near the base of the town's eponymous ski area.
In skijoring, a skier hangs on to a rope attached to a horse and glides across the snow .  It is like horse-drawn waterskiing on snow. Best of all, Skijoring is a thrilling spectator sport.  With speeds of up to 40 m.p.h., the action is fast-paced and exciting with the skiers being towed by a horse at a full gallop.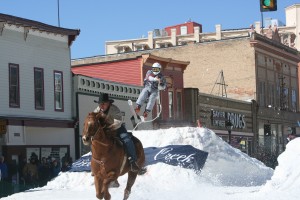 Horse, cowboy, skier, rope — this high-adrenaline sport combines all four. Teams race through a time-trial course with skiers navigating gates, jumps, and at times even spearing rings. Authentic horsepower and big spills make this truly one-of-a-kind winter western event a must-see.
The event is free for spectators.
Competitors can find registration information and rules on the event website www.RedRiverSkijoring.com. Cash prizes will be awarded for daily winners and oveerall winners of both days of the competition in all divisions (Novice, Sport & Open).  For the safety of the horses, riders and skier's this is strictly a "no dogs allowed" event.  Shops, restaurants, lodges and the ski area will be open all weekend with additional activities.
Après Skijoring will include live music by the Dewey Paul Band at the Bull O' The Woods Saloon on Friday and Saturday night, while the Motherlode Saloon will have live music by The Rifters on Friday night and Jason Bolan & the Stragglers on Saturday night. An awards party is scheduled for Sunday night at the Lifthouse, with the general public welcome to attend.