Aspen, CO – White River National Forest officials have approved Aspen Skiing Co.'s (ASC) request to replace Lift 1A, a.k.a. the Shadow Mountain chair, on Aspen Mountain.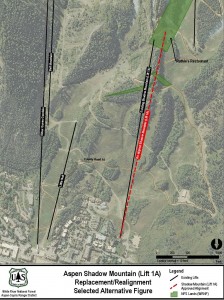 ASC asked for permission to replace the fixed-grip double Lift 1A in September. Forest Supervisor Scott Fitzwilliams determined that the lift's slightly realigned replacement, situated nearly entirely on private land aside from three small Forest Service parcels near the top, did not require a detailed environmental assessment, speeding the approval process. The new lift can carry 1,200 riders per hour up its 3,600 linear feet, rising 1,390 vertical feet. It's up to ASC whether they build a chair, a gondola or a hybrid lift.
"I am pleased to announce my decision to authorize the replacement and realignment of Lift 1A," Fitzwilliams said.  "First contemplated in the 1997 Aspen Mountain Master Plan, the time has come to install a more modern ski lift for the resort's western portal.  This new lift will improve the guest experience during the resort's winter operating season and improve the overall reliability of lift service for the alpine race venue."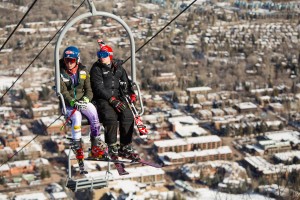 The base of Chair 1A is well known in the ski racing world as the finish area for the resort's annual Aspen Winternational World Cup races. It will also play host to the World Cup Finals in March 2017. In awarding the Finals to Aspen, the International Ski Federation (FIS) urged ASC to replace lift 1A.
ASC, however, hasn't yet decided if it will build the lift's replacement in 2016, as the placement of the lift's lower terminal is dependent upon the approval of plans to build the 75,000-square foot, 61-room Gorsuch Haus hotel at its base. ASC also wants to ensure the hotel's approval before investing in the lift's replacement to ensure its economic need.