Beaupré (QC), Canada – Quebec's Mont-Sainte-Anne launched a new on-mountain activity last Saturday with two dedicated ascent routes for alpine touring and telemark skiers, as well as splitboarders.
Alpine touring arrived in the Quebec area over the past few years and is rapidly increasing in popularity. Skiers can now climb to Mont-Sainte-Anne's summit with skins and skis or a split board, and then enjoy 71 of the resort's slopes on the descent.
These new approved ascent routes are located one each on the South Side and the North Side of the mountain, and follow narrow trails located deep in the forest. One must first ascend the mountain's South Side via a 5.3 km route before accessing the North Side and returning via that face's 3.1-km. climb.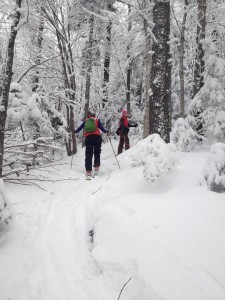 Mont-Sainte-Anne is allowing uphill skiing for $7.99 per day, or $29.99 for a season pass (plus taxes). Hours are from 8:30 a.m. until a last climb at 2:30 p.m.
Mont-Sainte-Anne isn't alone in offering uphill skiing in Quebec. Following a fire in January 2014 that destroyed its base lodge and chairlift, Mont Alta in the Laurentian Mountains north of Montreal has shifted focus from a downhill ski area to an exclusive alpine touring center. Tickets for touring at Mont Alta cost $10 per day or $32 for a season pass.