Tazawako, Japan – Canada's Mikaël Kingsbury won the 32nd FIS World Cup moguls competition of his career on Sunday in Tazawako, Japan, during a dual moguls event. Kingsbury defeated American Thomas Rowley by a score of 20-15 to capture the title. Frenchman Benjamin Caven finished third after defeating Dmitriy Reiherd of Kazakhstan 22-13.
It was an impressive weekend for the 23-year-old Kingsbury, who also finished second in the single moguls event behind American Brad Wilson, who finished fifth on Sunday. Sunday's victory is Kingsbury's fourth of the season in eight attempts and his seventh time on the podium overall this season. Dating back to last season, Kingsbury has won 11 of his last 15 World Cups.
"I'm thrilled to be back on top of a World Cup. It wasn't an easy day for me with the draw I had," said Kingsbury, of Deux-Montagnes, Quebec. "There were a few challenges with the course and I had to beat some really good competitors along the way. I really wanted to win yesterday and I didn't, so I was extra motivated. My confidence kept going up after each dual. I'm happy with the way I dealt with things and that I've basically locked up the Crystal Globe."
Rowley, of Long Beach, N.Y., battled through five rounds of dual moguls to land his second career World Cup podium next to Kingsbury. Rowley, who was named World Cup Rookie of the Year last season, skied a strong middle section throughout the competition. After consistently finishing in the top 10 and top 20 this season, Rowley was happy to find the podium.
"I've been close at a couple of events, but it hasn't really worked out," said Rowley. "It feels good to finally put a couple down and get on the podium."
On the women's side, Deborah Scanzio of Switzerland took the win, the first out of 106 World Cup starts in the mogul veteran's career.
"It feel amazing to have finally won a World Cup competition. I've been waiting for this moment many years, almost too many," Scanzio admitted. "I though this moment would never happen and today I had probably a little bit of luck but I worked hard and started to ski better and faster in every next heat and ended up on top. I'm very happy now!"
Canada's Audrey Robichaud and Chloe Dufour-LaPointe each earned their second podiums of the weekend, finishing second and third. The U.S. women struggled and let the course get the best of them, with Mikaela Matthews, of Frisco, Colo., posting the lone top-10 finish in eighth. Jaelin Kauf, of Alta, Wyo., was the next highest U.S. finisher behind Matthews in 11th.
"I had a really great day to day to make it to the podium. My training went really well entering the competition and I was consistent all day," said Robichaud. "I was skiing really well in all my dual matches. The final was a real battle, but I'm happy for Deborah. Making it to the podium twice this weekend is special. I couldn't be happier and I'm really looking forward to competing in Moscow next week."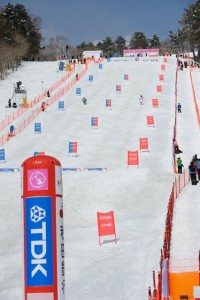 "I really pushed myself today and am proud of my performance. It was a really nice day out there with great snow conditions. I think that helped us out a lot," said Chloé Dufour-Lapointe. "I also gained the yellow bib jersey as the overall leader of the World Cup. That's a huge accomplishment since I have been fighting a cold all weekend. I had to push through it. I'm proud of myself."
World Cup moguls teams now prepare for the last FIS World Cup of the season taking place in Moscow, Russia, this Saturday. The Moscow event will take place on scaffolding, which will be a unique venue for the mogul skiers.
"The event in Moscow next week will be interesting, stated Rowley. "I'm excited to see what the whole scaffolding set up is like and experience skiing in the city."
OFFICIAL RESULTS
FIS Freestyle Ski World Cup
Tazawako, Japan – Feb. 28, 2016
Men's Dual Moguls
| | | | |
| --- | --- | --- | --- |
| Rank | Nation | Name | World Cup Points |
| 1 | CAN | KINGSBURY Mikael | 100 |
| 2 | USA | ROWLEY Thomas | 80 |
| 3 | FRA | CAVET Benjamin | 60 |
| 4 | RUS | REIHERD Dmitriy | 50 |
| 5 | USA | WILSON Bradley | 45 |
| 6 | USA | WALCZYK Dylan | 40 |
| 7 | CAN | MARQUIS Philippe | 36 |
| 8 | AUS | GRAHAM Matt | 32 |
| 9 | CAN | DUMAIS Laurent | 29 |
| 10 | JPN | HARA Daichi | 26 |
Women's Dual Moguls
| | | | |
| --- | --- | --- | --- |
| Rank | Nation | Name | World Cup Points |
| 1 | SUI | SCANZIO Deborah | 100 |
| 2 | CAN | ROBICHAUD Audrey | 80 |
| 3 | CAN | DUFOUR-LAPOINTE Chloe | 60 |
| 4 | KZH | GALYSHEVA Yulia | 50 |
| 5 | FRA | LAFFONT Perrine | 45 |
| 6 | CAN | GAGNON Alex-Anne | 40 |
| 7 | RUS | PERTAKHIYA Marika | 36 |
| 8 | USA | MATTHEWS Mikaela | 32 |
| 9 | CAN | DUFOUR-LAPOINTE Justine | 29 |
| 10 | JPN | ITO Satsuki | 26 |