Huntsville, UT – While skiers wait for the flakes to fall, the last few weekends for summer operations at Utah's Snowbasin Resort are full of fun activities to say goodbye to summer and get excited for the upcoming 2016-17 ski season.
Snowbasin Resort hosts its fourth annual Basin Beer Fest on from noon to 6 p.m. this Saturday, and again from noon to 4:30 p.m. on Sunday. Pimps of Joytime and Pinetop Inferno will play free music on Saturday, and Leftover Cuties and Dead Winter Carpenters will play free music on Sunday while guests sample all of the best local craft beers. Basin Beer Fest will feature beers from Bohemian Brewery, Uinta Brewing, Squatters Beers, Wasatch Beers, Red Rock Brewery, Roosters Brewery, 10 Barrel Brewing Company, Payette Brewing Company and more.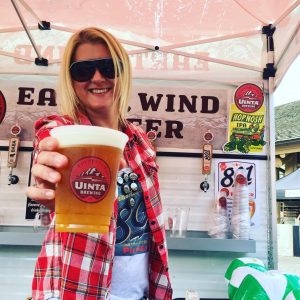 Admission to the Beer Fest is free and 6 oz. samples of beer are available by purchasing tokens at just $2.50 each. In addition, a beer drinker can buy different Beer Fest packages that include a Beer Fest Mug and a set amount of tokens. Visit www.snowbasin.com to check the packages.
The Basin Beer Fest menu includes Oktoberfest inspired cuisine such as bratwurst and sauerkraut, chicken schnitzel, knackwurst platter, sauerbraten fries, German Black Forest cake and more. Plus, if you don't want to drive, Lakeside Property Resorts is offering a 20% off lodging special and a complimentary shuttle to and from the Beer Fest.