Whitefish, MT – Three years after it was filed, the family of a German exchange student who died after suffocating in a tree well while skiing at Whitefish Mountain Resort in Montana has been settled.
Niclas Waschle was 16 years old in December 2010 when he was found unconscious in a tree well off the marked runs near Whitefish's T-Bar 2. He died at Kalispell Regional Medical Center less than a week later, after his family removed him from life support.
A tree well is an area of unconsolidated snow beneath the boughs of an evergreen tree. Often, a skier's effort to extricate himself from a tree well results in deeper and deeper burial.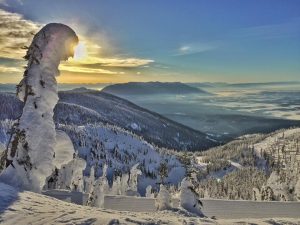 Three years after the incident, Waschle's family filed its lawsuit against the ski area, the victim's host family and the exchange student program that brought Waschle to the U.S., arguing that the ski area should have mitigated the tree well danger and/or roped off the area, and that both the host family and exchange student program were negligent in their supervision of Waschle. A federal District Court judge hearing the case dismissed the host family in 2015, but refused to dismiss the ski resort. Waschle's family appealed the host family's dismissal to the Ninth Circuit Court of Appeals.
In a statement regarding the settlement, the terms of which were not disclosed, Whitefish Mountain Resort officials maintain that they were not negligent in any way that caused Waschle's death.
"Despite the settlement, Whitefish Mountain Resort maintains its consistent position that it has no liability for Mr. Waschle's unfortunate death," the resort stated. "From (Whitefish Mountain Resort parent company) Winter Sports Inc.'s perspective, as is often the case in lawsuits, it agreed to the settlement for reasons other than a belief that the Waschle family could prove its claims in court."
Two more guests perished in tree well incidents at Whitefish during winter 2013-14.