Reno, NV – Kässbohrer All Terrain Vehicles, manufacturer of the snowcat grooming brand PistenBully, has teamed up with terrain park designer Snow Park Technologies (SPT) to collaborate on the design of co-branded terrain park equipment, and to advance product development efforts. The partnership will also offer current and future PistenBully clients access to special training opportunities provided by the SPT crew, who are recognized as some of the most experienced operators in the industry.
"SPT is a company that shares our passion and vision for the future of terrain parks and the snow business. They are leaders in the action sports industry, and their unmatched level of experience designing and building event courses and resort terrain parks will provide our product development and engineering teams with feedback that will allow us to further enhance the capabilities of the PistenBully snow grooming fleet," said Dennis McGiboney, VP Sales & Marketing for PistenBully USA. "Together, we will offer our combined experience in a way that offers unparalleled benefits to our customers and continues to make our machines the leading choice among resort operators."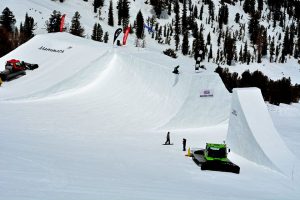 SPT's operators have built hundreds of competition courses, parks and pipes over the past 20 years. They will serve as equipment test pilots, giving feedback directly to the PistenBully product development team and helping guide product developments and new feature innovations. In addition, SPT will become PistenBully's official demo team, with exclusive access to the machines on its showcase project builds throughout the year.
"Partnering with PistenBully makes a lot of sense for us. Both of our teams are incredibly motivated, and are driven to innovate and continually push the winter sports industry forward," said Chris "Gunny" Gunnarson, president of SPT. "We're excited to see what we can accomplish together, and to take the PistenBully fleet on the road with us, contribute our ideas to help push the technology forward, and to work closely with resort operators across the country to help them take their terrain park programs to the next level."
Through this new partnership, SPT's operators will have access to PistenBully innovations such as the ParkPro, SNOWsat fleet management, snow depth measurement and winch cat technology. PistenBully will tap the expertise, experience and knowledge of the SPT crew to further develop and enhance the company's product offering and further advance the industry.