New York, NY – Ski poles really don't cover a whole lot.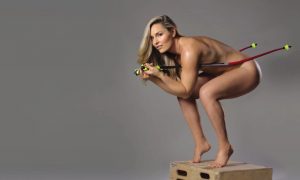 Olympic Alpine skier Lindsey Vonn wants women to stop thinking about "losing weight fast," and instead focus on loving their bodies for what they are and what they can do. And what better way to promote that than to pose nude in a ski racer's tuck, wearing only ski poles?
That pose showed up in a video published on Thursday by People magazine:
In Strong Is the New Beautiful, Vonn offers women advice on what to eat, how to work out, and bolster their self-confidence and build a better body image, with the tips and tricks she's learned as a professional ski racer.
"Strong Is the New Beautiful will inspire and motivate you–whether you're an aspiring athlete, want to get back into shape, or are eager to up your game—to make your body stronger than ever before, inside and out," publisher Harper Collins says.
And seeing the results up close and personal can't hurt, either.