Soelden, Austria – Alexis Pinturault of France was unstoppable on Sunday, never giving up his lead to win the men's Audi FIS Ski World Cup opening giant slalom by .70 seconds. Austrian Marcel Hirscher threw down a spectacular second run and even after hipping out, grabbed second. Felix Neureuther of Germany was third. Four-time Soelden winner Ted Ligety, of Park City, Utah, returned from injury to take fifth place.
"In the beginning, you never know where you are," Pinturault said after winning both runs of GS on Sunday. "You never know if you are skiing fast or not and just after Soelden, you can see where you are more or less. One thing that is easy in skiing is that there is never strategy, you just have to push and push even harder for the second run."
The duel between Pinturault and Hirscher is going to be very interesting to follow this season. Challenged by Pinturault who was leading after the first run, the five-time Overall World Cup winner made a mistake in the middle of the second run. The great champion he is, the incident didn't destabilize him, and he pushed even harder at the bottom and was able to earn second place.
"I'm super happy because the pressure is definitely on my shoulders, especially at the first race of the season," Hirscher said. "If I am skiing good, everything is fine, but if I am skiing bad, it is never fun so I am super happy and a lot of pressure has gone away."
The track was perfect in the morning with hero snow and good visibility on the Rettenbach Glacier. However, it began to cloud over during second run, hinting of an impending storm. But it didn't affect Ligety, who loved the turny second run set and got lucky with light. Starting in the middle of the pack after finishing 14th first run, he was a little behind the clock on the top section, but nailed the transition to the flatter section to generate speed to the finish. He came down in the lead and held on to take fifth overall.
It was Ligety's first race back after suffering an anterior cruciate ligament injury in his right knee last season. Ligety has been the king of Soelden in the past, with four wins and seven podiums in the 10 times he's raced the hill.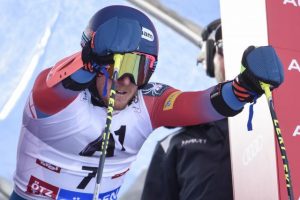 "I'm pretty happy with fifth place for my first race back," said Ligety, who was the defending champion on the track. "I haven't had any speed in training, so it's the first step back I was attacking a little more second run. I was a little lucky with the light, so that helped me more than some other guys. I'm happy to get fifth place. It's a good first start."
Ligety added that he feels strong and will be training hard until his next race—the super G in Lake Louise. "I feel good," said Ligety. "My body feels fine. I just don't have the high-intensity, high-speed miles in yet. I need to get there."
Tim Jitloff, of Reno, Nev., was the only other U.S. man to qualify for second run, but he went down on his hip on the pitch and did not finish.
"I came in with quite a bit of heat into the first pitch and went too direct there. I got late, lost some time and tried to make up for it on the pitch and tried to be pretty aggressive. I think I just booted out on the left-footed turn and went onto my hip," Jitloff explained. "There was nothing I could do—once I was gone, I was gone. It was unfortunate. This place is a bit tough. I've never really had a great deal of luck here. I'm not going to sweat it; we have a lot of season left. Next event for me is the GS in Beaver Creek. "
OFFICIAL RESULTS
Audi FIS Alpine Ski World Cup
Soelden, Austria – Oct. 23, 2016
Men's Giant Slalom
| | | | | | | | |
| --- | --- | --- | --- | --- | --- | --- | --- |
| Rank | Bib | Name | Nation | Run 1 | Run 2 | Total | Diff. |
|  1 |  5 | PINTURAULT Alexis | FRA |  1:04.38 |  1:09.63 |  2:14.01 | |
|  2 |  3 | HIRSCHER Marcel | AUT |  1:04.55 |  1:10.16 |  2:14.71 |  +0.70 |
|  3 |  9 | NEUREUTHER Felix | GER |  1:05.12 |  1:10.26 |  2:15.38 |  +1.37 |
|  4 |  24 | KRANJEC Zan | SLO |  1:05.54 |  1:09.91 |  2:15.45 |  +1.44 |
|  5 |  7 | LIGETY Ted | USA |  1:05.87 |  1:09.79 |  2:15.66 |  +1.65 |
|  6 |  2 | FANARA Thomas | FRA |  1:05.42 |  1:10.26 |  2:15.68 |  +1.67 |
|  7 |  12 | MURISIER Justin | SUI |  1:04.58 |  1:11.21 |  2:15.79 |  +1.78 |
|  8 |  4 | KRISTOFFERSEN Henrik | NOR |  1:05.46 |  1:10.47 |  2:15.93 |  +1.92 |
|  9 |  1 | FAIVRE Mathieu | FRA |  1:05.77 |  1:10.17 |  2:15.94 |  +1.93 |
|  10 |  28 | DE ALIPRANDINI Luca | ITA |  1:06.18 |  1:09.95 |  2:16.13 |  +2.12 |