Kellogg, ID – In the second sale of an Idaho ski area in less than a month, Silver Mountain in Kellogg has been sold to a Seattle area man.
Jen-Weld Holdings, a door and window manufacturer and owner of Silver Mountain for the past two decades, has had the resort up for sale for several years, along with the rest of its resort portfolio in order to focus on its core business. Silver Mountain failed to sell in a sealed-bid auction in 2013.
It was announced on Thursday that Silver Mountain regular and Kenmore, Wash. resident Tryg Fortun, manager of the real estate investment firm Eclectic, LLC, has purchased the resort for $5 million, according to documents filed with the Securities and Exchange Commission.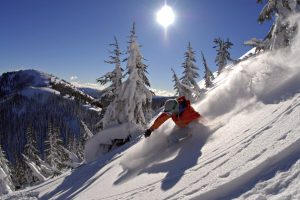 "This is my favorite ski resort anywhere in the world and we are excited to be part of it," Fortun said in announcing his purchase. "We plan to 'up the stoke,' take the resort to the next level and become the preferred year around destination resort in the Pacific Northwest."
Originally conceived by the Bunker Hill Mining Co. as Jackass Ski Bowl in 1967, Silver Mountain offers skiing and riding on 6,2970-foot Kellogg Peak, and 6,205-foot Wardner Peak. The 1,590-acre ski area has a vertical drop of 2,197 feet, served by one gondola, five chairlifts and one conveyor lift.