Mammoth Lakes, CA – New public charter service JetSuiteX is introducing service between Burbank and Mammoth Lakes, home to Mammoth Mountain Ski Area,, starting December 15 and running through April 3.
JetSuiteX, whose parent company, JetSuite, recently announced an investment from JetBlue, offers the speed of private jet travel but at commercial fares, and is the only nonstop service for sale on this route. Fares for the new route start from $129 each way.
"We are thrilled to offer the Los Angeles market another JetSuiteX destination, following Las Vegas, Concord and San Jose," said JetSuite CEO Alex Wilcox. "Our scheduled charter service will allow Angelenos the opportunity to enjoy the epic terrain and long ski season that Mammoth Lakes is known for. Best of all, you can get to the airport 20 minutes before your flight, be on the slopes an hour earlier and bring all of your ski gear for no extra charge."
JetSuiteX will connect Burbank Bob Hope Airport with Mammoth Yosemite Airport with four roundtrip flights per week – a 4:15 p.m. departure from Burbank's Hangar 2 and a 5:45 p.m. return flight from Mammoth Lakes – on Thursdays, Fridays, Sundays and Mondays, on luxuriously configured 30-seat Embraer 135 aircraft. The public charter operator launched service in April, and currently offers regular flights in major west coast markets, including San Diego, Las Vegas, Burbank, San Jose and Concord, Calif. in the East Bay.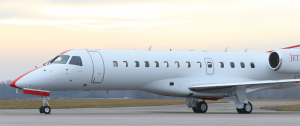 "The addition of JetSuiteX service to Mammoth Yosemite Airport this winter will offer a unique, high end experience of private air service without the need to charter your own plane," said Mammoth Lakes Tourism Executive Director John Urdi. "The convenience of service from Burbank, the hassle free boarding process and no baggage fees will make this service very attractive to our guests. We look forward to a long relationship, and possibly expanded routes offered with JetSuiteX in the future."
JetSuiteX provides many of the comforts usually associated with private jet travel but for the price of a traditional airline seat, including flight departures from private jet terminals (FBOs), individual power outlets, free WiFi and inflight entertainment, and free drinks and snacks. Unlike alternative offerings, JetSuiteX clients don't need to pay a monthly subscription, or travel in small propeller airplanes.
JetSuiteX also offers give-and-get $20 flight credits when clients refer their friends. Referred friends will also receive $20 off their first flight. The more friends that clients refer, the more $20 flight credits clients receive. Clients can simply create an account on jetsuitex.com to start referring friends.
Flights may be purchased by visiting jetsuitex.com, or by downloading the JetSuiteX app on iOS.