Girdwood, AK – Brian Burnett has been named as the new Ski Area General Manager at Alyeska Resort in Alaska.
Burnett, who has worked at Alyeska Resort for almost a decade, is a life-long Alaskan and has skied Alyeska since "before the earthquake". His promotion to Ski Area General Manager comes after serving for seven years as Mountain Services Manager, and his new responsibilities included general oversight of ski patrol, snow safety, lift crews, tram operations, mountain maintenance projects, mountain learning center, rentals, mountain side budgeting, and guest/customer relations. Burnett has observed hundreds of ski area operations throughout the world during his time with the U.S. Ski Team, giving him valuable perspective on how to run efficient operations at Alyeska Resort.
"This place means the world to me," says Burnett. "I grew up in Anchorage and have been coming to Alyeska Resort my entire life. It's been fun to see all of the changes over the years. I'm humbled and honored to accept the position of Ski Area General Manager."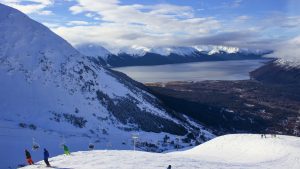 In other personnel developments at Alyeska, Lauren Dritzler has accepted the position of Director of Sales. As Director of Sales, her primary goal is to make sure guests are satisfied and directs bookings of new or continuing business for The Hotel Alyeska and Alyeska Resort. She also supervises and controls the group sales' operations to meet and exceed sales objectives and goals as well as manages a team of sales reps. Dritzler joined Alyeska nine years ago after moving to Alaska from Utah, where she attended Utah State University in Logan. She also has ties to Southeast Alaska while working during summer breaks in Ketchikan.
"I feel very fortunate to be able to call Alyeska my home," says Dritzler. "I completely understand why Alaska is on a lot of people's 'bucket list' as it was on mine before I made the drive up here. I strive to make sure that guest experiences are as special and memorable as possible."
Also, Todd Endres has accepted the position of Assistant Food & Beverage Director at the resort. Endres will help oversee all resort food outlets, menu creation, specials, operations, events as well as work with Alyeska Marketing to ensure all of the aforementioned is properly communicated to the public. His responsibilities include that of Seven Glaciers, Sitzmark Bar & Grill, Bore Tide Deli & Bar, Aurora Grill and Sakura Asian Bistro. Endres was promoted up from Food & Beverage controller where he held the position for over a year. He brings experience from his time as General Manager at Sullivan's Steak House in Anchorage, as well as being a board member for the Mayor's Charity Ball Committee.