Originally published: 7:46 a.m. MDT Oct. 27, 2016.
Updated: 1:21 p.m. MDT Oct. 27, 2016

Rangeley, ME – Back in September we first told you of a movement afoot to purchase Saddleback ski area in northwestern Maine and run it as a co-op after the resort failed to open last winter. That, now, is on the road to becoming reality.
Officials with the Saddleback Mountain Foundation, a consortium of Rangeley-area businesses and Saddleback skiers, held a press conference this morning at the Maine offices of the Trust for Public Lands in Portland.  The foundation has formed the non-profit Saddleback Community Mountain Resort LLC (SCMR), which has reportedly reached a verbal agreement to purchase the 723-acre ski area from the Berry family for $2.2 million, while the New England Forestry Foundation and the Trust for Public Lands will purchase an additional 3,200+ acres on the mountain, adjacent to the Appalachian Trail, for a price yet to be determined.
"We have been working with the owners of the mountain, the Berry Family, on this for a while and we now have their verbal agreement on the terms of a transaction and a road map to acquire the ski area," Peter Stein, founder of the Saddleback Mountain Foundation, said in a prepared statement. "We need to raise $4 million and we will close on the deal. When we originally looked at the community purchase we had immediate interest with several people making financial commitments – now we will turn that passion into power to buy the mountain."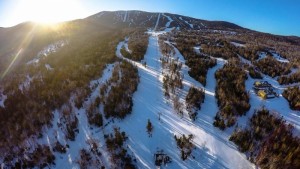 SCMR will now embark upon its fundraising effort by offering shares in the co-op, similar to a system in place at Vermont's Mad River Glen ski area. In fact, Mad River Glen's Marketing Director, Eric Friedman, attended the press conference as a member of the fundraising group.
The Berrys purchased Saddleback and 8,000 acres of land in 2003, and have since sunk some $40 million into resort improvements. However, they placed the resort for sale in 2012, and when they were unable to secure funding to replace the resort's primary chairlift they kept the mountain shuttered last winter as they searched for a buyer. News about the mountain's future was sparse and infrequent, frustrating Saddleback regulars and season passholders.
SCMR officials, who say that $1.8 million of the $4 million to be raised will be used to fund capital improvements, can't yet confirm that they'll be able to get Saddleback back up and running for the upcoming 2016-17 winter season as that decision hinges upon raising the $4 million.