Killington, VT – America's slalom sensation, Mikaela Shiffrin of Eagle, Colo., did it again on Sunday in Killington, holding off Veronika Velez Zuzulova of Slovakia and Swiss racer Wendy Holdener to win yet another Audi FIS Alpine Ski World Cup slalom.
Shiffrin earned her 22nd career World Cup victory — and her 13th straight in slalom —  by a 0.73-second margin despite a few small bobbles in her second run. Although she now calls Colorado home, Shiffrin attended Burke Mountain Academy in northern Vermont, and skied for an excited hometown crowd on Sunday including her 95-year-old grandmother, who got to see Shiffrin race this weekend for the first time ever.
"The fact that my nana was able to watch this race is amazing," said Shiffrin. "I can't put that into words. The proudest I've ever been is winning this race in front of my nana.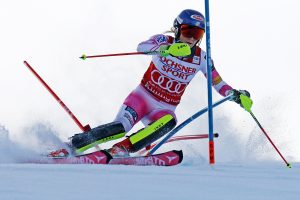 "I put a lot of pressure on myself," acknowledged
Shiffrin, who remains undefeated in slalom this season after winning in Levi, Finland on Nov. 12. "Knowing that I've been performing so well in slalom, I really had a great chance of winning the slalom here. And I actually really wanted to win the GS as well, but I didn't put winning GS skiing out there."
Shiffrin finished fifth in Saturday's giant slalom in Killington. As on Saturday, large crowds of spectators were entertained by the local favorite at the first World Cup weekend held on the U.S. East Coast in 25 years.
"It's amazing. It was like 16,000 yesterday and I don't how many there are today, but it's full and that's so cool," Shiffrin said before officials later confirmed that Sunday's spectator attendance matched Saturday's. "I could hear them chanting USA before my run. In these kinds of races, the crowd totally carries me down the hill."
"It was a really nice race," said Velez Zuzulova, who took second place. "Usually we are racing in Aspen and I can say that the crowd is never like this, so it was a really nice experience to race here."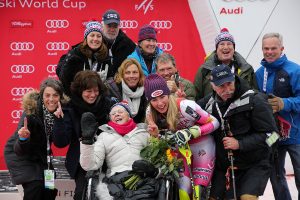 "I think we get a step closer than last year," the third-place finisher Holdener said of the commanding leads Shiffrin has become known for in slalom. "Still she [Shiffrin] is dominant and I think the other girls and I are on the right way to get closer and closer. I think it will get thrilling this season."
Among other Americans, Resi Stiegler (Jackson, Wyo.) finished 17th. Lila Lapanja (Incline Village, Nev.) and Megan McJames (Park City, Utah) did not qualify for a second run. Nina O'Brien (Edwards, Colo.) and Patricia Mangan (Derby, N.Y.)—who were racing their first slalom World Cup—did not finish the first run.
U.S. Ski and Snowboard Association President and CEO Tiger Shaw was also present at the race. "This event at Killington will have a lasting impact on this sport for a decade or more to come," said Shaw. "The excitement and the motivation that this will generate for kids in New England is unsurmountable and will help grow the profile of alpine skiing in the country."
Next up, the World Cup women head to Lake Louise for a speed series Dec. 2-4.
(A complete photo gallery of Sunday's action in Killington from First Tracks!! Online correspondent Martin Griff follows the official results below.)
OFFICIAL RESULTS
Audi FIS Alpine Ski World Cup
Killington, VT – Nov. 27, 2016
Women's Slalom
| Rank | NATION | Name | Run 1 | Run 2 | Tot. Time | Diff. Time |
| --- | --- | --- | --- | --- | --- | --- |
| 1 | USA | SHIFFRIN Mikaela | 43.30 | 44.65 | 1:27.95 | |
| 2 | SVK | VELEZ ZUZULOVA Veronika | 43.95 | 44.73 | 1:28.68 | +0.73 |
| 3 | SUI | HOLDENER Wendy | 44.24 | 44.57 | 1:28.81 | +0.86 |
| 4 | NOR | LOESETH Nina | 44.55 | 44.74 | 1:29.29 | +1.34 |
| 5 | SVK | VLHOVA Petra | 44.84 | 44.46 | 1:29.30 | +1.35 |
| 6 | GER | DUERR Lena | 45.04 | 44.40 | 1:29.44 | +1.49 |
| 7 | CZE | STRACHOVA Sarka | 45.08 | 44.37 | 1:29.45 | +1.50 |
| 8 | AUT | SCHILD Bernadette | 45.20 | 44.32 | 1:29.52 | +1.57 |
| 9 | AUT | KIRCHGASSER Michaela | 45.44 | 44.44 | 1:29.88 | +1.93 |
| 10 | SWE | HANSDOTTER Frida | 44.87 | 45.20 | 1:30.07 | +2.12 |
PHOTO GALLERY: