Kitzbuehel, Austria – The 77th edition of the Hahnenkamm race weekend — the Super Bowl of ski racing — officially kicked off in Kitzbuehel on Friday with a super G held on the legendary Streif course. Austrian Matthias Maier clocked the fastest time and whipped the home-country crowd into a celebratory frenzy, followed by Italy's Christof Innerhorfer in second and Beat Feuz of Switzerland in third.
Austria has been waiting for a super G win at Kitzubehel for six years, and today the Olympic Champion Mayer put an end to this drought. Getting his second super G win in Kitzbuehel, in addition to a podium result in 2015, is a dream come true for the 27-year-old skier from Gerlitzen – Kaernten.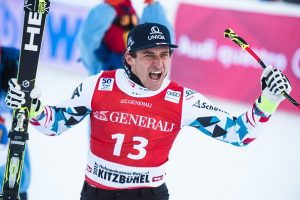 "It is an incredible feeling for me to top the winner's podium, especially after my injury. After already taking two silver trophies home, I am delighted they have now been given a golden brother."
With bib number 8, Innerhofer was the surprise guest on the podium today. In addition to early season struggles (best place was a 10th in the Val Gardena super G), the South Tyrolean crashed in Santa Caterina and had to sit out the following races in Wengen due to strong knee pain. He came to Kitzbuehel with the intention to try his best, but without high expectations.
"An unbelievable day. Not even I thought I would end up on the winner's podium today, because I wasn't sure if I could compete at all after my injury," Innerhofer said. "Maybe it was a good thing that I didn't give it too much head space."
Feuz crossed the finish line in pole position thanks to a strong performance, especially in the Hausberg Traverse that allowed him to carry down his speed all the way to the finish, but eventually relinquished the top two spots on the podium. After finishing last years' super G season with a win in St. Moritz and a 6th position in the cup standing, Feuz failed to perform at his best in super G thus far this season, finishing 6th, 14th and 11th in this season's first three races in the discipline. This podium result in Kitzbuehel, the third in his career, gives him the confidence he needed.
"I have three trophies at home now. I am certainly not planning to complain about it not being a gold one again," Feuz said. "The Hausbergkante was the deciding section of today's race."
Travis Ganong, of Squaw Valley, Calif., paced three Americans into the top 20, finishing 11th.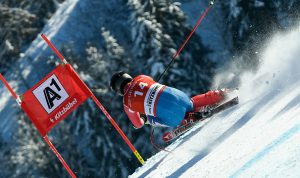 "After (Thursday's training run) it was good to get a full run down the course and build a little confidence for (Saturday's downhill) and test out the body," said Ganong, who charged a bit too hard out of the gate in the final downhill training run.
"On a hill like this it's so hard mentally to be able to push and be confident," Ganong added. "After (Thursday's run) I kind of lost some confidence. Before the run (Thursday), I watched Stephan Eberharter's winning run from 2003 and he absolutely hammered. So I was inspired to try to push as hard as I've ever pushed before just to see what would happen and I got a little too excited – skied straight through the first gate. So I think it's just good to get that run done today and realize that I just need to relax and keep it simple, and not push too hard and just find the flow and go."
Andrew Weibrecht, of Lake Placid, N.Y., was 18th, immediately followed by Utah's Steve Nyman in 19th. Nyman came out of the 51st start position to post his seventh career top-20 World Cup super G finish. He was was also the top U.S. finisher in Wednesday's downhill training run.
"I haven't had a great year in super G so far," Nyman admitted. "Just messing with skis and stuff and I got back on this old ski and it felt really comfortable in training the other day to where it was OK today. Best result of the year in super G for me today and hopefully it qualifies me for World Champs."
A trio of Americans just missed the top 30 for World Cup points including Tommy Biesemeyer (Keene, N.Y.) in 33rd, Jared Goldberg (Holladay, Utah) in 34th and Brennan Rubie (Salt Lake City, Utah) in 35th.
Austria's Marcel Hirscher was 24th in Friday's super G and increased his overall World Cup lead to 288 points over Norway's Henrik Kristoffersen. Norway's Kjetil Jansrud, winner of the last three three super G races, was ninth and maintained his overall World Cup super G lead with 329 points over Italy's Dominik Paris (192 points).
Tomorrow, the traditional Hahnenkamm-Abfahrt will take place on the Streif, one of the toughest downhills in the world. The weather forecast is excellent and over 40,000 spectators are expected to visit the event, starting at 11.30 CET.
OFFICIAL RESULTS
FIS Alpine Ski World Cup
Hahnenkamm Weekend – Kitzbuehel, Austria – Jan. 20, 2017
Men's Super G
| | | | | | |
| --- | --- | --- | --- | --- | --- |
| RANK | NATION | NAME | TIME | DIFF. | WC Points |
| 1 | AUT | MAYER Matthias | 1:11.25 | | 100 |
| 2 | ITA | INNERHOFER Christof | 1:11.34 | +0.09 | 80 |
| 3 | SUI | FEUZ Beat | 1:11.69 | +0.44 | 60 |
| 4 | NOR | KILDE Aleksander Aamodt | 1:11.71 | +0.46 | 50 |
| 5 | AUT | FRANZ Max | 1:11.84 | +0.59 | 45 |
| 6 | ITA | PARIS Dominik | 1:12.04 | +0.79 | 40 |
| 7 | ITA | FILL Peter | 1:12.09 | +0.84 | 36 |
| 8 | GER | FERSTL Josef | 1:12.15 | +0.90 | 32 |
| 9 | NOR | JANSRUD Kjetil | 1:12.17 | +0.92 | 29 |
| 10 | FRA | PINTURAULT Alexis | 1:12.27 | +1.02 | 26 |