Killington, VT – Many years in the planning, the proposed village at the base of the Killington Resort in Vermont has secured Act 250 approval from the state to construct Phase I of the Killington Village Master Plan following a rigorous, multi-year approval process.
Developed by SP Land Company, with master planning and architectural design by Hart Howerton, the vision for the Killington base village is based on other North American mountain destinations where historic towns and villages are intertwined with ski operations and year round activity. Plans call for a new, consolidated base lodge and ski bridge spanning Killington Road, along with SP Land's creation of social, après ski settings along walkable village streets and Town Green.
The concept for a residential village at Killington dates back to the mid-1990s. In the days when the resort was owned by the now-defunct American Skiing Company, that corporation first gained partial Act 250 approval for the project. SP Land first presented its Killington Village Master Plan Act 250 application to the District #1 Environmental Commission in February 2012. After a permit was issued in October 2013, SP Land appealed certain restrictions contained within that approval. After an Environmental Court judge largely sided with SP Land in 2016, that decision, too, was appealed.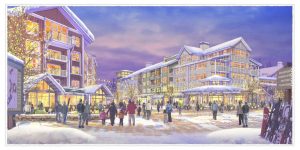 Implementation of the village master plan will begin with a $130 million Phase I comprising: 193 residential units in the village core; 31,622 square feet of retail/ commercial; replacing the existing Snowshed and Ramshead Lodges with a single new 77,000 square foot skier services building; and a 32-lot Ramshead Brook slopeside residential subdivision.  Subsequent phases of the Killington Village Master Plan will include approximately an additional 2,000 housing units and up to 91,500 square feet of additional commercial development.
"Great places start with great vision. Hart Howerton took the lead in creating an outstanding land plan for us here at Killington and followed up that work by taking the lead on the design of Phase I improvements in the Village Core.  Their involvement is the key to the success of our overall team and seeing this development through," said SP Land President, Steve Selbo.
"When Hart Howerton was first approached by SP Land Company in 2004, our team of architects and planners set out to create a vibrant, year-round village that would be a healthy, pedestrian-friendly heart for Killington," Hart Howerton CEO, Jim Tinson, stated.