Norden, CA – A three-event series designed for skiers and riders of varying ages, ability levels and interests, the Sugar Bowl Silver Belt Series presents a new kind of challenge. The events include a downhill event, an uphill touring event, and a banked slalom. Those who complete in all three events will earn a coveted Silver Belt buckle.
"The Silver Belt Series was created to offer a new, fun way for our guests to explore the mountain," said Jon Slaughter, director of marketing and sales at Sugar Bowl Resort and Royal Gorge Cross Country. "Our intention is to make this event series inclusive of different types of snow events, and something that will be fun for all ages and interests."
The Silver Belt Series will kick off this Saturday with "D Money's Dozen," and will be followed up by the "Quad Crusher" on February 25. The series will conclude on March 12 with the "Shred the Love" banked slalom. Registration for each event will take place on-site at the resort the day of the event.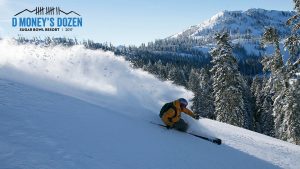 "D Money's Dozen" – January 28, 2017
A fun, new challenge, "D Money's Dozen" requires participants of all ages to ski or ride the 12 favorite off-piste runs of Daron Rahlves, Sugar Bowl athlete and the most decorated male American Downhill and Super G skier in history.  Spread across Sugar Bowl's iconic slopes, this challenge will finish with an après party that includes food, drinks and a raffle, with a portion of the registration fees benefiting the Excellence in Education Foundation. A family-friendly/kids version of the challenge will also be available for those interested in staying on groomed trails. Online advance registration is $30 per adult, $20 per child (ages 18 and under). Day-of registration will also be available for $35 per adult, $25 per child.
"Quad Crusher" – February 25, 2017
A new endurance race staged across Sugar Bowl's four peaks—Mt. Judah, Mt. Lincoln, Mt. Disney and Crow's Nest Peak—the "Quad Crusher" is an uphill event that will test stamina, grit and determination while highlighting Sugar Bowl's beauty and terrain variety. Two divisions and distinct courses will make this event fun for both seasoned athletes and passionate citizen uphillers. The event will conclude with an awards celebration, food, drinks and raffle with proceeds benefiting the Sierra Avalanche Center. Online advance registration is $75 per person for elite division entry, $75 per person for "citizen" division individual entries, or $90 per two-person team entries.
"Shred the Love" Banked Slalom – March 12, 2017
In support of Boarding for Breast Cancer, after 11 years at Sugar Bowl, the "Shred the Love" event has changed format and will return as a banked slalom. This timed event will combine speed and style as participants weave their way through River Run Gully. Registration is $30 per person.
A lift ticket or season pass required for participation in each event.