Cortina d'Ampezzo, Italy – The Dolomites stage is set for "Speed Queen" Lindsey Vonn  to prevail. She has already notched a record 11 Audi FIS Ski World Cup victories in Cortina d'Ampezzo in all disciplines, including the last four World Cup races held here.
The immediate future in Cortina certainly looks bright for Vonn, and it's not just because the sun is shining and the snow is sparkling in this Dolomitic paradise. After winning her 77th career World Cup in Garmisch, Germany last week in just her second race back from injury, Vonn heads to one of her favorite tracks on the circuit for a downhill and super G. Add to that the fact that, in the first of two training runs, she grabbed the third-fastest time, just .22 seconds off Slovenian Ilka Stuhec's pace. And, she knows where she can cut time.
"I feel good," Vonn reflected. "Didn't really ski very well on top, but I skied well on the more technical sections in the super G section. I feel confident – downhill is coming along nicely. Every run I'm getting more confident and I feel better, especially after the win in Garmisch."
Laurenne Ross (Bend, Ore.) was sixth in training, Jackie Wiles (Aurora, Ore.) 16th, Alice McKennis (New Castle, Colo.) 22nd, and Idaho's Breezy Johnson 27th. Another Olympic Champion, Julia Mancuso, of Squaw Valley, Calif., kicked out of the start gate on Wednesday for the first time since March of 2015, after undergoing hip surgery. Coming through the finish with a big grin and a sigh of relief, she had fun and will look to make positive steps forward.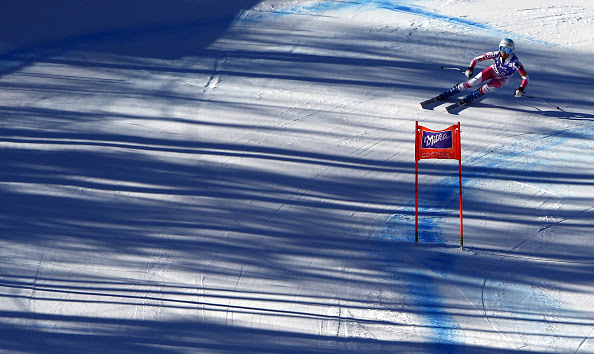 "It was really fun for me to be back out there," Mancuso said in the finish. "It was definitely nerve-racking. It's hard when you start in the middle of the season, because you never get an opportunity to train downhill, and I've only done two days of super G, so I really had to rely on my instincts. I'm really super-happy to be out here and I am still reminding myself to take it one day at a time. Even though I've been doing this for a long time, it's still hard to get used to going fast."
Over on the men's side, they'll take on a pair of downhills beginning on Friday – one rescheduled from Wengen – and a giant slalom. In Wednesday's training run, Utah's Steven Nyman posted the fourth-fastest time, leading the way for a strong American Downhiller contingent including Travis Ganong (Squaw Valley, Calif.) in 11th and Andrew Weibrecht (Lake Placid, N.Y.) in 12th.
After a challenging, slick and bumpy ride down the Streif in Kitzbuehel, the American Downhillers are loving the grippy, Beaver Creek-like snow on the Kandahar track in Garmisch. "They prepared the hill really well," Nyman said after the first and only downhill training run. "There are some turns that are almost Beaver Creek-like snow, just really grippy and nice."
As is an American speed team tradition – and highlight – in Garmisch, the men spent Wednesday evening at the Hausberg Lodge with U.S. military and their families, signing autographs, enjoying a taco buffet and hanging out. Hopefully their support will give the American men the push they need to succeed on the Kandahar. "I like the hill," reflected Steven, "and we were told no American man has ever won here. So it'd be kind of cool to be the first."
CONFIRMED U.S. SKI TEAM WEEKEND STARTERS
Cortina, Italy – Women:
Stacey Cook (Mammoth Lakes, CA) – DH, SG
Breezy Johnson (Victor, ID) – DH, SG
Julia Mancuso (Squaw Valley, CA) – DH
Anna Marno (Centennial, WY) – SG
Alice McKennis (New Castle, CO) – DH, SG
Alice Merryweather (Hingham, MA) – SG
Laurenne Ross (Bend, OR) – DH, SG
Mikaela Shiffrin (Eagle-Vail, CO) – SG
Leanne Smith (North Conway, NH) – DH, SG
Jackie Wiles (Aurora, OR) – DH, SG
Lindsey Vonn (Vail, CO) – DH, SG
Garmisch-Partenkirchen, Germany – Men: 
David Chodounsky (Crested Butte, CO) – GS
Bryce Bennett (Squaw Valley, CA) – DH
Tommy Biesemeyer (Keene, NY) – DH
Ryan Cochran-Siegle (Starksboro, VT) – GS
Tommy Ford (Bend, OR) – GS
Travis Ganong (Squaw Valley, CA) – DH
Jared Goldberg (Holladay, UT) – DH
Tim Jitloff (Reno, NV) – GS
Steven Nyman (Sundance, UT) – DH
Hig Roberts (Steamboat Springs, CO) – GS
Brennan Rubie (Salt Lake City, UT) – GS
Andrew Weibrecht (Lake Placid, NY) – DH