Park City, UT – The atmosphere at the first night of the Visa Freestyle International at Utah's Deer Valley Resort on Thursday was electric, with the best moguls athletes in the world battling it out on the resort's Champion run for the Putnam Investments Freestyle Challenge title. In the end, it was American Morgan Schild, of Rochester, N.Y., who landed on top of the podium, adding another victory to her World Cup resume.
Thursday night's event was Schild's fourth competition back after a 22-month hiatus due to injury. The road back from injury is a long one, but Schild's patience in recovery and confidence in her skiing allowed her to return to true form at Deer Valley in front of family, friends and a massive hometown crowd after a low cloud clinging to the top of the course lifted, along with a competition delay.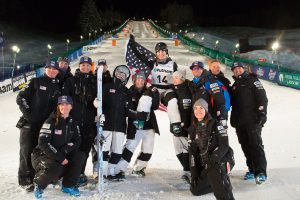 "I looked back to my strengths of being tough in the big moguls," said Schild, who was injured just after her first World Cup win in March, 2015. "People can struggle with that, and it makes me feel more confident to get to those places in the course that a lot of girls don't go, which is usually filled with a lot of soft snow. To be able to just commit and go as fast as I can into the bottom air, that's really what went well for me today. I feel like my old self, it's amazing."
With her D-spin 720 being the best ladies' air of the night and her top turning scores, Schild earned the win with one of the highest ladies' scores of the 2016/17 season – 81.27. Her victory, the second of her career, was made even more special by having her parents in the crowd, cheering her on as she battled to victory.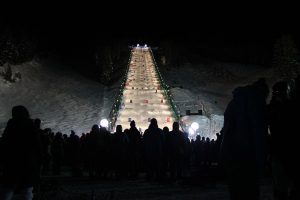 "My win in Tazawako (Japan) was amazing, but I just broke down in tears when I was able to hug my mom and dad here," she said. "To see them out here, after knowing what I went through those 22 months, it just fills me up inside – I don't even know what to say."
Schild was joined on the podium by Canada's Justine Dufour-LaPointe in second and Australia's Britteny Cox in third.
''My approach in today's competition was a little different," Dufour-LaPointe said. "It's not a matter of doing a copy paste from your last competition, that doesn't work. It's a tough course, and that demanded that I step up and land some big jumps, clean. After the final I was in sixth, which meant I was leading off the super final, and I had to leave everything I had on the course. I'm very proud of the way I pushed my limits today.''
"Deer Valley is known as the Super Bowl of freestyle skiing," Cox added, "so to get on the podium here, with my whole family here to watch me, is so special and I'm so happy."
The U.S. women's team as a whole had another strong performance, with Nessa Dziemian (East Hampstead, N.H.) joining Schild in the super final to finish fifth and Mikaela Matthews (Frisco, Colo.) and Tess Johnson (Vail, Colo.) in eighth and ninth, respectively.
Canada's Mikael Kingsbury landed yet another win in Thursday night's men's competition — his 36th on the World Cup — with France's Benjamin Cavet in second and Canada's Philippe Marquis in third.
''I knew Matt (Graham) was carrying a lot of momentum into this competition, and that he had won this competition last year. Today, I had to focus on my runs, and that's typically when I achieve my best results," said Kingsbury, who with 57 podium finishes now shares the record with legendary French skier Edgar Grospiron despite still being only 24 years old. "I felt that my skiing was getting stronger as the competition progressed.''
The American men sent four athletes, Troy Murphy (Bethel, Maine), Tom Rowley (Long Beach, N.Y.), Troy Tully (Pleasantville, N.Y.) and Ryan Dyer (Steamboat Springs, Colo.) into the finals. Murphy emerged as the top finisher, continuing to build on past success with a fifth place finish.
"My skiing is where it needs to be now," stated Murphy. "I can kind of play the game and do the tricks that I've always been able to do. Now it's just a matter of putting it all together in a nice, clean package. I was super close tonight, just a couple of small mistakes. Today was one of the only times I really heard the crowd in the start before my run, which was pretty cool. It really hypes us up."
The Visa Freestyle International continues on Friday with the men's and women's aerials competition, the first qualifying event for the 2018 Olympic Winter Games in PyeongChang. Moguls action concludes on Saturdaywith the fan-favorite dual moguls.
OFFICIAL RESULTS
FIS Freestyle World Cup
Visa Freestyle International – Deer Valley UT – Feb. 2, 2017
Women's Moguls
| Rank | NATION | Name | Tot. Points | WC Points |
| --- | --- | --- | --- | --- |
| 1 | USA | SCHILD Morgan | 81.27 | 100 |
| 2 | CAN | DUFOUR-LAPOINTE Justine | 78.60 | 80 |
| 3 | AUS | COX Britteny | 77.00 | 60 |
| 4 | FRA | LAFFONT Perrine | 74.12 | 50 |
| 5 | USA | DZIEMIAN Nessa | 73.83 | 45 |
| 6 | RUS | PERTAKHIYA Marika | 47.44 | 40 |
| 7 | CAN | DUFOUR-LAPOINTE Chloe | 75.43 | 36 |
| 8 | USA | MATTHEWS Mikaela | 73.90 | 32 |
| 9 | USA | JOHNSON Tess | 73.82 | 29 |
| 10 | CAN | DUFOUR-LAPOINTE Maxime | 73.51 | 26 |
Men's Moguls
| Rank | NATION | Name | Tot. Points | WC Points |
| --- | --- | --- | --- | --- |
| 1 | CAN | KINGSBURY Mikael | 82.48 | 100 |
| 2 | FRA | CAVET Benjamin | 81.17 | 80 |
| 3 | CAN | MARQUIS Philippe | 79.76 | 60 |
| 4 | AUS | GRAHAM Matt | 79.18 | 50 |
| 5 | USA | MURPHY Troy | 77.64 | 45 |
| 6 | NOR | SLATTEN Vinjar | 43.41 | 40 |
| 7 | CAN | POULIOT-CAVANAGH Simon | 79.55 | 36 |
| 8 | FRA | THEOCHARIS Sacha | 79.43 | 32 |
| 9 | NOR | ANDERSEN Tevje Lie | 79.08 | 29 |
| 10 | KOR | SEO Myung-Joon | 76.52 | 26 |