Mammoth Lakes, CA – Toby Miller, of Carlsbad, Calif., and Ludlow, Vt.'s Anna Valentine topped the halfpipe field at the Toyota U.S. Revolution Tour on Saturday, while Hailee Mattingley, of Sandy, Utah, won slopestyle for the ladies on Sunday.
After a week of adverse weather conditions that rescheduled and postponed multiple events, everybody was happy to see competition go down this weekend. The conditions were not perfect on Saturday, however, with winds and fresh snow making the halfpipe a challenge to ride.
Miller, who was riding with a broken wrist suffered in a training session with snowboard legend Shaun White, was—in his own words—ecstatic. "I can't be more stoked," Miller said after the competition. "Everybody out there rode amazing; everybody was out there swinging and doing their best. The pipe was kind of a little rough out there but everybody handled it like champions."
Miller was joined on the podium by Jason Wolle, of Winter Park, Colo., in second and Robert Pettit, of Aspen, Colo., in third.
Valentine was also thrilled to top the competitive women's field under the challenging conditions. "It was a really good day," she said. "First run I was definitely doubting myself but I pulled through in finals." Noelle Edwards (Mt. Snow, Vt.) took the second spot while U.S. Snowboarding's Zoe Kalapos (Vail, Colo.) rounded out the podium in third.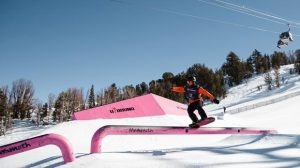 Sunday was a much-needed beautiful day at Mammoth Mountain, and the Unbound slopestyle course was on point. "Today was sick—perfect conditions, super sunny," said Mattingley, the first place winner for the ladies.
Third-place finisher in slopestyle for the men, Lukas Caye of Minneapolis, Minn., agreed. "The course was amazing, best course I've ever ridden, hands down," he said.
Mattingly was joined on the podium by second-place finisher Haille Soderholm (Salt Lake City, Utah) and Baily McDonald of Canada in third.
Chandler Hunt of Park City, Utah was the top finisher for the American men with a second place finish. Kiroaki Kunitake of Japan took the win.
The next stop of the Toyota U.S. Revolution Tour will be at Seven Springs, Penn. March 6-10 and will feature slopestyle and halfpipe competitions.