St. Moritz, Switzerland – Colorado's Mikaela Shiffrin became the first female skier in 78 years to win three consecutive World Championship slalom titles at the 2017 FIS Alpine World Ski Championships on Saturday.
In explosive fashion under a bright blue sky and skiing on a rock-hard course, Shiffrin matched Germany's Christl Cranz (1937, 1938, 1939) as the only ski racers to win three slalom titles in a row.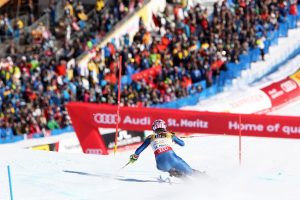 Winning the first run by 0.38 seconds over Switzerland's Wendy Holdener, Shiffrin crushed the second run, on a course set by her coach Mike Day, to extend her margin of victory to 1.64 seconds over Holdener, who finished second, and 1.75 seconds over Sweden's Frida Hansdotter in third.
"I heard the crowd screaming for Wendy and I knew she must have had a great run, and I just thought 'you know what, today's my day, not yours,'" said Shiffrin, who finished the second run with her characteristic explosive fashion, gaining more than a half second from the third split to the finish.
Shiffrin, who just seems to have one extra gear at top speed over the rest of the field, skied a solid first run to shake out the nerves, before cutting loose on the second run.
"My nerves were higher the first run," she said. "Second run I thought that I'm halfway there, but everything could disappear in one second, so just focus. I felt (my) confidence building and building, and when I got into the gate, I was ready."
However, the time she spent at the start waiting for her second run after Holdener moved into the lead "felt like I was standing there forever," she added. "So I just thought, 'pretend they are cheering for you and go for it!"
Holdener was the hero for the Swiss fans, earning the silver medal, her second of these World Championships after she took gold in the alpine combined last week.
"I made a few small mistakes in the second run, so when I heard the speaker say I had the lead I was surprised," said Holdener. "There was no beating Mikaela today, so I'm really happy with the silver medal and these entire World Championships."
Hansdotter now has three medals in the last three World Championship appearances, with one silver and two bronzes.
"It means a lot to me today. I had a lot of pressure so it feels nice to have the medal," said Hansdotter "I've been skiing well the last few years and to get a medal at the last three World Championships is great."
Resi Stiegler (Jackson, Wyo.), competing in her eighth World Championships, finished 11th. Megan McJames (Park City, Utah) was 36th.
"It wasn't my day," Stiegler acknowledged. "I knew I'd have to give it my all and I tried."
After Swiss Lara Gut's season-ending knee injury last week, Saturday's World Championship gold medal is likely not the only major title Shiffrin will win this year as she has a clear command in the race for the Overall World Cup title.
OFFICIAL RESULTS
2017 FIS Alpine World Ski Championships
St. Moritz, Switzerland – Feb. 18, 2017
Women's Slalom
| Rank | Name | Nation | Run 1 | Run 2 | Total Time | Diff. | FIS Points |
| --- | --- | --- | --- | --- | --- | --- | --- |
|  1 | SHIFFRIN Mikaela | USA |  47.80 |  49.47 |  1:37.27 | |  0.00 |
|  2 | HOLDENER Wendy | SUI |  48.18 |  50.73 |  1:38.91 |  +1.64 |  12.14 |
|  3 | HANSDOTTER Frida | SWE |  48.57 |  50.45 |  1:39.02 |  +1.75 |  12.95 |
|  4 | VLHOVA Petra | SVK |  48.56 |  50.60 |  1:39.16 |  +1.89 |  13.99 |
|  5 | STRACHOVA Sarka | CZE |  49.00 |  50.32 |  1:39.32 |  +2.05 |  15.17 |
|  6 | KIRCHGASSER Michaela | AUT |  48.75 |  50.74 |  1:39.49 |  +2.22 |  16.43 |
|  7 | BUCIK Ana | SLO |  48.76 |  51.13 |  1:39.89 |  +2.62 |  19.39 |
|  8 | WIKSTROEM Emelie | SWE |  49.49 |  50.71 |  1:40.20 |  +2.93 |  21.69 |
|  9 | FEIERABEND Denise | SUI |  49.61 |  50.62 |  1:40.23 |  +2.96 |  21.91 |
|  10 | SCHILD Bernadette | AUT |  49.41 |  50.83 |  1:40.24 |  +2.97 |  21.98 |