Twin Bridges, CA – It seems like every multi-resort ski
region possesses one or more areas within its boundaries that, for whatever
reason, often doesn't get the big press, the big buzz, or whatever other dues
it's owed. In Northern California, Sierra-at-Tahoe seemingly fills that role
rather too well. Lying only some twelve miles south of beautiful Lake Tahoe
and the bustling twin cities of South Lake Tahoe, California and Stateline,
Nevada, Sierra-at-Tahoe – S-A-T for short – possesses neither the "extreme"
cachet of Squaw Valley or Kirkwood, the glitzy allure of Heavenly, or even the
"non-threatening/family friendly" reputation of Northstar-at-Tahoe, its Booth
Creek twin over on the North Shore.
n
S-A-T works, and works very well I might add, by doing just about
everything pretty much right.  In other words, the resort is operated with an
efficient correctness, all the while avoiding the temptation to blow its own
horn excessively while doing so, or of becoming sterile.  You want long groomers
with multiple opportunities to dive off-trail into challenging glades of huge
and beautiful evergreens?  Got 'em in spades here.  You want some extreme steeps
bristling with truly gnarly moguls?  Got 'em in spades here.  Want terrific
non-stop ski school and family programs?  How about 2,212 feet of vertical drop,
480 annual inches of snow, more than 2,000 acres of drop-dead-gorgeous terrain
and scenery, an under-rated 47 trails, and three (three!) massive terrain parks? 
You guessed it.  Sierra's got all this and more.  About the only thing S-A-T
doesn't have, yet, is the national and international cachet possessed by some
of the better known Tahoe ski resorts. 
Our family wasn't about to waste a
single day of our long-anticipated whirlwind tour of the Lake Tahoe area without
ripping everything in site.  I suppose you could call it "hardcore family" skiing,
what with our mission to attack six resorts in six days .  Thirty days or so
spent on eastern hardpack does tend to give rise to a sense of urgency to ski
with a vengeance when you finally head west.  Accordingly, Day Three of our
six-day ski week found us rising at daybreak in our modest South Lake Tahoe
motel and heading out for the short drive south down California State Highway
50 to S-A-T.
I had read and heard much of the local
buzz on this pleasantly unassuming place through reading the various Internet
reviews and by partaking in some casual e-mail chat with the very cool guys
who operate  www.slidingonthecheap.com
(in my opinion, one of the best Tahoe-specific sites on the net).  I had further
reflected on the resort as I looked down over the Sierras for the first time
during my Southwest Air flight from Detroit to Reno a few days earlier.  I couldn't
really explain it, but I had a warm and fuzzy feeling about the place.

As I made skiing small-talk ad nauseam
with Briar, my faithful life and skiing partner seated next to me,  she seemed
decidedly less enamored.  "I've never even read a single article about this
place in the big ski magazines," she ventured.  I assured her that she would
be pleasantly surprised.  She knows that I'm always right.  Like that time I
assured her on April 23, 1998 that Killington would most certainly have enough
skiable terrain open to justify making the seven hour one-way drive despite
advertising that only six trails were covered.  But I digress… 
The kids, Jacquelin, 14, and Jonathon,
10, were plainly much more excited, mainly as a result of two factors.  First,
that the place was famous for its aforementioned three huge terrain parks. 
Second, that  we were due to arrive at the  resort smack dab in the middle of
the resort's gigantic annual party on the snow known as  "Winterfest."  I reflected
on these and other things as our trusty Subaru climbed the long, well maintained
access road to the resort and entered its main parking lot.  We quickly became
part of a veritably endless aggregation of families that were exiting their
vehicles and bee-lining for what appeared to be a giant winter carnival, complete
with blaring music, gaily festooned booths, and, most importantly…… free
cheese!  The kids were off like shots while I searched out management.
S-A-T actually has a long history as
a fixture of the Tahoe ski community.  Originally opened as a typical small,
family-run business a generation or more ago by Vern Sprock under the moniker
"Sierra Ski Ranch," S-A-T was purchased in 1993 by Fibreboard Company, who promptly
renamed it similarly to its newly purchased sister resort,  Northstar-at-Tahoe. 
George Gillette and his Booth Creek Resorts conglomerate then swallowed up both
areas during the great corporate buying blitz of the late 1990s.  Booth Creek
immediately went to work on upgrading both mountain peaks at the resort, installing
no less than three high speed quads, designing and building the terrain parks,
and generally upgrading mountain services to their present impeccable standards.
Recognizing a good thing when they
saw it, the successive waves of new management have each consciously elected
against messing with the quality of the ski experience over the intervening
years.  With a bed base of some twenty thousand pillows located only twelve
miles distant, S-A-T management has never felt the urge to commence wading through
the expensive morass of environmental red tape required to create and develop
a slope-side resort community.  For primarily that reason, an unusually high
proportion of resort capital expenditures has continually gone into upgrading
mountain lifts, terrain and core services, rather than real estate.  Frankly,
that suits most skiers just fine, thank you.  
The Booth Creek  resorts market hard
to the Sacramento/Bay Area family market, and it shows.  S-A-T has developed
an almost bewildering plethora of economical and useful family packages and
programs, all of which are further enhanced by a shared pass arrangement with
sister resort Northstar.  Several families I spoke with that day were consistent
in their praise for the convenience,  and service that the resort offers.  Of
special noteworthiness is the resort's free lesson program, which runs at 11:30
a.m. and 1:30 a.m. each day.  One need only show up at the daily designated
spot in order to receive some valuable technique pointers in a relaxed setting.
As elsewhere within Booth Creek, S-A-T has also been at the forefront of bringing
economy to the sport, offering a $199 midweek season pass and a $399 unlimited
season pass, also both valid at Northstar.  Last year, S-A-T also offered free
season passes to grade 4 and 5 students who received straight "A's" in school!

We checked in at the public relations
desk area and were advised by Tracy Owen Chapman, the resort's marketing director,
that she would speak with me at length over lunch.  With Winterfest already
in high gear by 8:00 a.m., it was obviously a zoo in the office.  We were sent
on our way with an updated press kit, trail map, and orders to re-attend at
1:00 p.m. for further discussions. 
The Tahoe weather had consisted of
nothing other than bluebird days and cold nights since our arrival. In fact,
the previous day had seen mid-day temperatures soar into the high 50s.  Unfortunately,
over the prior evening the snow had solidified in the high elevation chill. 
As there had been no fresh snowfall  since the night of our arrival, the snow's
surface had set up like concrete overnight.  I wistfully glanced to my right
as I boarded the first lift, recognizing that skiing the beckoning glades first
thing in the morning would be akin to schussing over a barnyard full of frozen
farm animals.  However, the weather report had called for a high of 60 degrees
and brilliant sunshine on the hill later. I figured – provided the largely north
facing glades weren't too shaded – that I would be carving perfect corn by about
11-ish. For now, we would concentrate on skiing the south facing aspects of
the resort's twin mountain peaks.
S-A-T is one of those mountains whose
layout takes a little getting used to—not because it's so big, but because the
skiing essentially takes place in two loosely interconnected pods.  Each pod
incorporates a large, north-facing aspect and a smaller south-facing aspect. 
It is somewhat difficult to move from one pod to the other without embarking
on a long diagonal traverse.  At the conclusion of the traverse, I would consistently
discover that I had arrived  at a much different place on the opposing mountain
from where I anticipated I would arrive.  Fortunately, everything on both peaks
eventually funnels back to the compact, skillfully designed base area, so there
is little chance of smaller children becoming permanently lost.
As I've alluded to, skiing at the resort
takes place on two interconnected peaks.  To the east lies imposing Huckleberry
Mountain, an advanced and expert skier's paradise of steep conifer glades, mogul
shots, and a smattering of GS cruising terrain.  To the west lies prosaically
named West Mountain, largely an intermediate's paradise, but one not without
its own share of similar challenges.  Both areas are served by efficient high-speed
quads, each one ferrying skiers up approximately 1,600 vertical feet in under
eight minutes or so.  Getting in mileage is no problem at this resort.  Other
well-placed doubles function mainly as return lifts up the respective south
faces and as quad backups.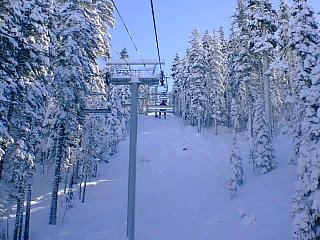 Aboard the Grandview Express (photo Sierra-at-Tahoe)
There is a huge, wide and very gentle
beginners' area west of the base lodge area, serviced by its own dedicated (and
very short) high speed quad.  Just say, "Please lower the bar/Please raise the
bar." Serious experts may smirk, but on the day of our visit, the area was positively
crawling with Bay Area novices with small children in tow, all gleefully playing
on the snow.
As we loaded on the Grandview Express
and began our ascent up the face of Huckleberry Mountain, I began to positively
salivate at what I roughly estimated to be 1,500 steep, vertical feet of the
most immense Jeffrey pines I had yet seen on the trip.  It hadn't snowed in
three days, and consequently the glades had become somewhat tracked out.  Remember
however, that "tracked out" is a relative expression between the various Tahoe
areas.  Compared to what I would have likely found at Squaw Valley (where literally
every square inch of terrain would have been polished slick from the abrasion
of a hundred pairs of ski bases by that time), I figured I could live with the
slightly less than pristine conditions.  Besides, I was struck by sheer beauty
of the place.

Sure enough, upon disembarking at the
top of the lift, I discovered that the boilerplate hadn't yet broken, and our
skis skittered and slid across the surface with sickeningly unpleasant chatter. 
It was an opportune time to head for the sunny south face.  The glades would
have to wait.  Frankly, it wouldn't have been an issue in any event.  Running
straight south from the top of the quad is the largest of three immense, man-made
snow parks.  The kids were already off  like shots into the distance, beckoning
for Briar and me to follow them.  I thought to myself, "What is it about kids
and terrain parks?"  Until, that is, I pushed off.
Now, I m the first to admit I've never
been a big terrain park fan.  If I want air, I'll use a natural cornice or cliff
band.  Table tops?  Best used for eating dinner, or maybe, in a pinch, during
a first date.  I now stand corrected.
This place knows how to create killer
terrain parks.  There was an absolutely amazing quantity and variety of jumps,
quarter pipes, maze-like obstacles, and some other stuff that, I'm sure, carried
a typically regenerative name—and at least 800 vertical feet of it.  Frankly,
it was an absolute blast.  The amazing thing is, there are three distinct terrain
park areas at the resort.  Judging by the number of kids exhibiting signs of
sheer, unadulterated fun, I suspect that Booth Creek is on to something here.
For lunch, we retired upstairs to the
tactfully appointed lounge area, and, cheap skiers that we are, began to search
out the brown-bag section.  The lodge is a somewhat bewildering, multi-level
affair that is somewhat difficult to traverse in ski boots. However, I noted
that there were plenty of tables available, even on this crowded Sunday.  I've
been in enough places where tables are at a premium, so believe me, it was refreshing
to have some room to stretch out and relax.
I briefly broke from the family to
speak with Tracy, who was positively effusive in trumpeting the efforts that
Booth Creek was making in the areas of service and family programs.  She appeared
to be particularly proud that both the resort's adult lesson program and children's
ski school were consistently booked literally to the max nearly every weekend
for the entire winter season.
Wide-open corduroy for GS turns (photo Sierra-at-Tahoe)
After completing the interview,  it
again was time to hit the slopes.  Despite the brilliant sun and the day's extreme
warmth, for some reason the snow hadn't corned up whatsoever in the gladed and
north-facing  slopes.  However, the south slopes were turning rapidly into unpleasant
glop.  We elected to ski over to the West Mountain side and arc some high speed
GS turns on the groomed.  West Mountain is similarly served by its own ubiquitous
high speed quad, which also serves up roughly 1,600 vertical feet.  The runs
on this side of the resort are generally long, immaculate groomers, relentlessly
blue in color.  It very quickly became apparent where all those families at
the base area were gravitating.  I recognize that West Mountain is no hardcore
haven, but I'm still not a big fan of the Wal-Mart style "trail greeters" flashing
"SLOW' signs at crowded critical trail intersections.
After some nice runs, I'd had enough
of the crowds of tourons.  It was time to head back over to Huckleberry and
beat myself senseless in the moguls under the Grandview Express.  I'm no Johnny
Moseley, but I do enjoy moguls well enough to provide literally unlimited comic
relief to the lift riders overhead.  I can report that plenty of side-splitting
entertainment was provided to same that afternoon.  Three long and very steep
bump runs cascade down the north face of Huckleberry, each doing a very capable
job of turning my legs into Jell-O by the mid-point of the descent.   
As the shadows lengthened, we made
a final pair of runs down some West Mountain groomers  with the sense of satisfaction
of knowing that I'd stumbled on to a secret jewel of a resort.  Well, not  exactly
a secret – 910,000 mainly Bay-Area ex-pats can't be wrong – but a jewel nonetheless. 
After searching out the kids (where else but in the terrain parks!), we loaded
our gear into the Subaru and drove down the access road, all the while praising
the resort.  And while I'm not sure if I'd travel all the way across the country
to ski just at Sierra-at-Tahoe for a whole week, those skiers who don't check
it out while skiing in the Tahoe area are simply doing themselves a great disservice.