My introduction to Japanese skiing took
place roughly 27 years ago in front of a television set in Warren, Vermont,
my hometown in the United States, and also home to Sugarbush Ski Area. My father,
a transplanted Austrian who had emigrated to North America to become a ski instructor,
had not yet adopted the American custom of watching lots of baseball and football
(the American variety), and kept the TV set tuned to the coverage of the Sapporo
Winter Olympics. I remember watching the skating and ski events and little else.
It was not even until a few years later that I discovered that the Winter Olympics
were in Japan. At the time that I watched them, I probably didn't know what
"Japan" was, anyway.
n
Hakuba
I was a little more prepared the next time the Olympics took place
in Japan. I had recently interviewed for the Japanese Exchange and Teaching
program, and while quite excited at the prospect of going to Japan, and a little
more knowledgeable about skiing in Japan, the only clear memories of the Olympic
skiing were the names "Hakuba" (which I now know means "white
place") and "Happo-one". The Herminator's fall in the downhill,
and the earthquake that interrupted one of the skiing competitions, were about
the only vivid Nagano skiing memories that I had.
By that July, I was residing in Morioka, the capital city of the
largest prefecture in the country. I was made aware of the skiing available
in the area by an email one of my future co-workers sent. The name "Appi"
sticks out from that email. Upon arrival, I discovered the nearest major resort
was Shizukuishi, the host of the 1993 World Ski Championships.
Still, with limited space for moving, I merely gave my skis to
my parents and asked them to send me them in the winter. A break and severe
ankle sprain that fall found me spending most of November in a pool for rehab,
and waiting for the green light from the doctors to stop using the portable
cast. At that point, snow was little more than a nuisance for my crutches, and
skiing was far from my immediate concerns.
In early January, I discovered that my father had replaced my
giant slalom cut 207 cm long "planks" with a light, hourglass cut
pair of 190 cm skis, a size I had not skied since Junior High School. Being
a "speed demon", I was needless to say a little miffed. What happened
after that, my introduction to Japanese skiing was something else.
The northern part of the island of Honshuu actually gets more
snow than any other populated area of its latitude than any other place on the
globe. To a geographer, this probably signifies difficulties for the native
population in winter. To the skier, it means skiing, and lots of it.
With my new sticks I was off and skiing, into what has now been a great two-year
run.
There are some great ski areas within Iwate, the 5,881 square-mile
prefecture in which I live. Iwate-San, a young, violent, unstable volcano is
the one "dominant" mountain in the prefecture and has captured creative
desires of artists, poets, and photographers through the ages, and rivets the
attention of skiers and scientists today. The world may know about Shizukuishi,
notorious for not exactly doing a great job of hosting those World Championships
in 1993. Truth be told, it is a good resort, with some excellent challenging
terrain, and plenty of good intermediate runs.  A few runs cater to novices
as well. During most years, Shizukuishi will hold the Japanese National Skiing
Championships, and may well boast the best racing terrain in the country.
Appi
Hachimantai Resort
Zao
Appi, considered one of Japan's ten best resorts, has a great
variety of terrain for just about any level skier or snowboarder. Hachimantai
Resort has some of the best learning terrain anywhere, with well-cut trails,
fast chairlifts, and great view of Mt. Iwate, the prefecture's signature volcano.
I visit Hachimantai Resort several times per year to teach with my schools,
and each occasion finds the resort hosting several large groups of ski students
from all over the country. Hachimantai features three lifts serving several
trails, and countless acres of woods, valleys, ridges, and tons of powder. It
is a true backcountry legend, and the ownership knows that, as they do absolutely
nothing to stop off-piste skiing or boarding, unlike a lot of other Japanese
resorts where you risk getting your lift ticket clipped for skiing off trail.
The rest of the Tohoku region has some other great resorts. Akita
Prefecture claims the renowned Tazawako ski area, with an absolutely gorgeous
view of Lake Tazawako. It is, without a doubt, one of the most beautiful ski
areas you will ever visit. Aomori Prefecture is host to some excellent off-trail
skiing. The Hakkoda ropeway serves two "de jure" trails. Do they really
exist? I spent too much time skiing acres upon acres of woods and chutes, all
draped with abundant powder between the base lodge and the tramway terminus.
Like Hachimantai, the management knows off-piste is the calling card, and I
never even saw a patrolman when I was there. Iwakiyama is actually a fleet of
snowcats running skiers to the peak of a mountain every 20 minutes or so. The
machines only ascended two-thirds of the way during my one visit, and it wasn't
fantastic, but some reliable sources have advised that the top third makes it
more than worth your while.   
The aptly named Yamagata Prefecture (it translates to "mountain-shaped"
in Japanese) also delivers some excellent skiing. Zao, a rather large ski area
that consistently appears on most Japanese "top-10 ski area" lists,
mixes the best of Japanese and European ski traditions. It was modeled after
a European ski resort, as was the design of the town that the resort surrounds.
It is very reminiscent of the ski resorts I enjoyed when visiting the "Austrian"
part of my family. What about the Japanese tradition? The town is littered with
onsens (traditional Japanese hot-spring baths), some priced as low as
200 yen (dirt-cheap, Japanese style), the perfect après-ski after a day of exploration
at this large resort. Another can't-miss at Zao is the JuuHyoo (frost-covered
trees) on and around the summit. Bring your camera, and get there early, as
many people (including non-skiers) will gobble up the day's allotment of summit
tramway long before the day, if not the morning, is over.
Yamagata is also host to Gassan, a high mountain pass whose ski
season does not even start until May, when sufficient snow has melted to allow
cars to pass through and reach the resort. There still is enough snow to keep
it open until July most years, with an annual race held each June. I skied during
the month of May for the first time in my life this year at Gassan, and it was
breathtaking – both the skiing, and the beautiful vistas from the peak and accompanying
ridges. Looking around at all the mountains surrounding Gassan took place seven
months ago, but the picture is etched into my memory as if it was yesterday.
This, however, is not a complete picture of skiing in Japan –
not by a long shot.  It merely highlights one region, and still one that I have
not fully skied. My home region of Tohkou is considered the third best of the
three major parts of Japan that include extensive skiing. The other two, Hokkaido
(the northermost of the major islands) and ChuuBu (the region to the direct
south of Tohoku, and north and west of Tokyo) are reputed to be the best. These
are the places that the world has seen skiing, during the Winter Olympic Games
of 1972 (Sapporo-Hokkaido) and 1998 (Nagano-ChuuBu).
The geography of Hokkaido explains why the skiing there is as
abundant as the snow. Cold winter weather leaves Sibera, home to perhaps the
world's strongest winter weather (Antarctica excepted), unfettered. Tons of
snow therefore falls on Hokkaido annually. Having previously skied the North
American Rockies, European Alps, and even the hills of the Northeastern United
States and Finland, I can say that the quality of snow and terrain, and its
abundance, is comparable and in some aspects better than those more renowned
spots. OK, the Rockies are hard to beat, but the dogfight for second is strongly
contested by Japanese skiing.
The selection of skiing in this country is quite astounding. Although
it is debatable that Japan has the highest number of resorts in the world (if
a ski area has lifts owned by 4 different companies, it counts as four resorts
by Japanese ski census, not one like most others), it is certainly close to
the top in the raw number of resorts. It also is undeniably the possessor of
the most ski lifts of any country in the world. Of course, all of Japan is the
size of California, and 90% mountainous, so there are lots of places to put
those lifts.  A few ski lifts may even be found in the southern regions of KyuShu
and Shikoku.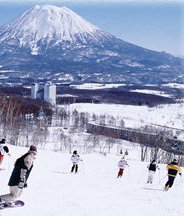 Furano
Much to my surprise and pleasure, the longer I stay in Japan the
more I learn about the quality and selection of skiing here. I still have yet
to leave my local region to pursue my ski explorations (I have rarely left it,
period, in my 2-plus years in Japan). I have had a ton of fun, found some great
skiing, and have also discovered a terrific way to practice my Japanese language
acquisition and interact with the local population. My skiing, with the addition
of carving skis and a ton of powder for off-piste adventure, has risen to a
new level. What does the rest of Japan have in store for me on skis? Names like
"Niseko", "Furano", "Kiroro", "Naeba",
"Shiga Kogen", "Hunter Mountain", "Goryuu Toomi"
and "Owani", names that meant little or nothing to me two years ago,
are now delivered to me in near-mythical proportions through the grapevine and
media. I somehow think that the three-year limit to my current job will not
be enough, and that I will need more time to explore the mountains of this country.
Whatever it is I have to do back in my home country, it can wait.
"SUKIIJOO NI IKIMASHOO!!" (Let's go to the ski
areas)