Sandpoint, ID – Let's face it,
Sssswhitezerrrr doesn't exactly roll off the end of your tongue. Kind of
reminds you of that feeling you got when you agreed to a blind date in high
school with Agnes Snodgrass. You know, that feeling sort of like, "Wow,
sounds pretty hideous, but you never know. Anyway, my buddy says she's
hot."

Schweitzer rises
above Lake Pend Oreille
(photo Schweitzer Mountain Resort)
So, just to clear up any lingering
misconceptions right from the start, Schweitzer Mountain is the Pamela Anderson
Lee of Agnes Snodgresses. Big, bold, beautiful to behold, and chock full
of more interesting terrain than anyone could fully explore in days. And,
like Pam, the resort has experienced some pretty schizophrenic phases during
her relatively short life but now, finally, appears to have settled in for
a well-deserved period of stability and prosperity
Frankly, despite the bluebird conditions,
I was feeling a bit down on that early January day as we left our modest motel
in Sandpoint, Idaho and began the short drive to Schweitzer Mountain Resort.
It had been snowing furiously home back in the east, and for once in a lifetime,
early season conditions were simply stellar in the local hills. The Pacific
Northwest, on the other hand, was experiencing a snow drought of epic proportions.
Its usual 300 plus inches of annual snowfall notwithstanding, Schweitzer had
not escaped the grasp of the prevailing weather pattern. Where normally the
mountain would have been in full, snowy operation, the weather report offered
only continued sunny skies. Icy, eastern-style hardpack conditions were to
be the order of the day.
However, our family – hardcore skiers
all – remained upbeat and committed to enjoying as much slope time as possible.
All of us enjoy skiing powder, steeps, and glades – the tighter the better.
We simply call ourselves enthusiastic. In any event, we were determined to
clock as many miles and hours on the hills as our eight-day road trip through
northern Montana and Idaho would permit. Schweitzer was the last stop on our
lengthy extended circular tour out of and back to Spokane International Airport.
As they say, sometimes it pays to save the good stuff for last.
A TROUBLED PAST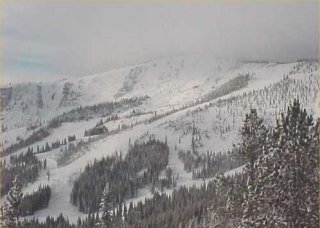 South Bowl (photo
Schweitzer Mountain Resort)
As alluded to above, Schweitzer
has endured a somewhat tortured history during its relatively short life.
It is situated entirely on private land once owned by the Brown family, scions
of the Pack River Timber Company, and long a mainstay of the Sandpoint economy.
This made development relatively easy, for the resort was therefore able to
avoid entanglement in the usual federal and state environmental roadblocks
to expansion – perhaps too easy. With a view to creating an instant destination
resort out of what was a charming locals' mountain, the Brown family embarked
upon a furious expansion, installing several lifts, including a high-speed
quad chair, and most ostentatiously, a huge, upscale base area development
centered around the magnificently opulent Green Gables Lodge.

Unfortunately, despite a vast, interesting,
and well-serviced mountain at their disposal, other fundamental aspects of
the business plan were either ignored, or were unable to be successfully integrated
into the resort's plans. Most notably missing was the acknowledgment that
Schweitzer is, kindly put, remote from most major population centers. Less
charitably, save and except for Spokane, Washington and Coeur d'Alene, Idaho
it is out in the middle of freaking nowhere. That fact, coupled with a drastic
drop in their previously loyal Canadian clientele (the end result of the incredibly
shrinking Canadian dollar since the mid-'90s) meant that day traffic was
extremely limited. While weekends remained busy, the vacancy rate skyrocketed
as the available stock of lodging increased.
Compounding the problem, with so
much of Pack Rivers' capital tied up in on-mountain improvements (good for
skiers) and in real estate (supposedly good for investors), there simply was
not enough leftover funding to adequately promote the resort as a destination
alternative. Simply put, despite the big-time infrastructure investments,
Schweitzer remained far, far off the radar screens of most casual tourist
skiers.
As might be expected, revenues never
rose to the anticipated levels required to sustain the resort's investment,
and the Brown family became embroiled in an increasingly acrimonious bankruptcy
proceeding with their lenders. Tragically, this culminated in the state court
ordering the forfeiture of the Brown's interest in the property after the
family would not accept the lender's offer of a reduced stake in the resort.
Schweitzer essentially wandered in the wilderness for a year or two during
which time its reputation for service and friendliness took a real beating.
This was a real shame, for this mountain offers some of the most diverse and
interesting terrain of any resort in the Continental U.S.
AN EXCITING PRESENT
Fortunately, a white knight appeared
on the horizon in the form of Harbor Resorts, owners of several eastern Washington
state resorts, including Stevens Pass and Mission Ridge. Harbor Resorts went
to work immediately to repair the recent damage and, as well, began to further
upgrade the mountains' infrastructure. The results are immediately apparent
upon skiing this wonderful mountain.

Schweitzer Village
(photo Schweitzer Mountain Resort)
As we ground our way up from town
on the long, long access road to the resort, we watched the minuscule snow
cover increase in volume during the nine-mile upward journey. While admittedly
the access road is a tad inconvenient to those accustomed to valley-level
accommodations, the road is excellently maintained in all weather conditions
and is actually a very enjoyable drive. Entering into the Schweitzer base
area is somewhat of an eye-opener in comparison to your expectations after
leaving the charming but oh-so-modest town of Sandpoint. The magnificent
Green Gables Lodge, now renamed the Selkirk Lodge, dominates a semicircular
ring of shops and service buildings. Above and below the base of the main
high-speed quad lie a large selection of private condominiums and town homes.
Many of these are available for rent to the tourist trade.

Having torn an edge out of my new
X-Screams a couple of days earlier, I headed for the well-equipped ski shop
to seek alternative boards. After explaining the situation, I was provided,
to my pleasant surprise, with a pair of high-end Atomic 9-22's at no charge
to use during our day of exploration. Evidently, service was back in vogue
at the resort. For the record, I can honestly state that our day at Schweitzer,
including our après-ski experience, was remarkable for its level of friendliness.
Schweitzer also prides itself on its affordability, including reasonable day
lift tickets priced at $37.00, afternoon tickets for $32.00, and a night ticket
(good from 3:00 P.M. to 9:00 P.M.) for an unbelievable $10.00. (2000-2001
prices)
I was to quickly discover that Schweitzer
is a huge mountain that, for some strange reason, reminded me somewhat of
a ¾-scale Squaw Valley. Perhaps it was the long, bald ridgelines and the
immense, sweeping bowls dropping below. Perhaps it was the magnificent view
south to Lake Pend Oreille which, like Lake Tahoe, is also incredibly deep
– both in its physical depth and in the aquamarine hue of its waters. If
someone were to ask me which lake afforded the more scenic backdrop, I would
be hard-pressed to decide.
Schweitzer offers an honest 2400
vertical feet of drop over much of its unexaggerated 2500 acres of terrain.
As a bonus, most of the vertical is truly skiable, offering it up without
the commonly attendant traverses or ski-outs at either top or bottom of most
runs. As we shall see, it is the diversity of terrain and the well-thought-out
cutting of the trails that makes this mountain such a joy to ski. Anyone
who finds himself or herself bored at Schweitzer either has the mentality
of the cabbage, or no pulse.

Schweitzer Bowl

Outback Bowl
(Click on either
image to open a full-size trail map
in a new browser window)
The best way to visualize Schweitzer's
simple layout is to stretch your arms out in front of you and rotate them
outward until backs of your hands are touching one another. If you curl your
fingers outward on each hand, you've got a good picture of the basic design.
Each hand represents Schweitzer's two giant bowls, Schweitzer Bowl on the
southeast (resort) side, and the Outback Bowl facing northeast on the back
side. The bowls actually joined at roughly 90 degrees to each other and are
separated by the long ridgelines, as represented by your arms and fingers.
The full 2400 vertical feet are usable in Outback Bowl. In Schweitzer Bowl
the resort "base" sits at approximately 1700 vertical feet below the ridgeline,
with another 500 or so vertical feet of mainly beginner and low-intermediate
terrain extending below that. It is this latter terrain which services many
of Schweitzer's ski-in /ski-out accommodations.
The ridgelines of the bowls are
long and offer virtually several seasons' worth of individual lines off the
top for experts and intermediates. Several runs are groomed at strategic
points along the ridge and offer low intermediates a similar top-to-bottom
experience. The bowls are exceptionally uniform in their angle and suitability
for skiing. Most begin reasonably steep and then fairly quickly mellow out
to an intermediate pitch as the bald upper slopes give way to lightly treed
and gladed areas from roughly mid-mountain down. Schweitzer boasts of 58
main trails. That number is also an honest representation of the actual run
count. In other words, the resort thankfully refrains from naming essentially
one trail several different names and calling it four or five different runs.
Frankly, you won't find longer average runs at many other resorts in North
America.
Schweitzer boasts of eight lifts,
more than enough capacity for the usual crowds. The workhorse lift for the
resort is the Great Escape Quad embarking from the center of Schweitzer Bowl.
This lift alone services in excess of 1000 acres of terrain off both the front
and back bowls. Two other high capacity doubles serve the most outlying areas
of Schweitzer Bowl.

With great hoopla, the resort introduced
a new 6-pack lift – and a whole new concept – with the introduction of their
"Stella" Chair servicing the east side of Outback Bowl. Stella was developed
in the hope that the chair lift experience could be made somehow as entertaining
as the skiing. Drawing upon the resort's lumbering history, the loading station
for Stella was turned into a miniature theme museum of sorts. Using the chair
requires that you to ski into a large shed which has been converted into a
replica of an old steam-powered sawmill, complete with some pretty interesting
audio and visual effects. It may seem somewhat corny and Disneyesque, but
my kids loved it. Very surprisingly, Stella services a vast expanse of expert
gladed terrain as well as several intermediate trails. Don't let me trail
map mislead you. These gladed trails are very challenging and incredibly
long – long enough to be absolutely exhausting from top to bottom. And, there
are lots of variations on each run. With better snow conditions, I would
have been very happy to spend several days poking about in this area alone.
The northern portion of the Outback
Bowl is serviced by the Snow Ghost Double. Here is where the majority of
Schweitzer's true expert terrain is located. Several double black chutes
drop off the ridgeline. Generally, the further you traverse skiers' left
from the top of the chair, the steeper the terrain becomes. The North Bowl
Chutes and Siberia areas also contain the only cliff bands in an otherwise
smooth-faced mountain. All of the Outback Bowl drops into an absolutely beautiful
runout called Cedar Park, which contains a sprinkling of immense 1000-year-old
cedar trees that you can weave amongst.

(photo Schweitzer
Mountain Resort)
Quickly booting up, we headed up
the Great Escape Quad for the ridge. It was still quite early and the sun
had not yet softened the rock hard snow surface. He few blue cruisers were
in order. Traversing skiers' left, we traveled down Great Divide, a blue
run following along the ridge, and dropped over the front face of Schweitzer
Bowl. Schweitzer holds the distinction of possessing some of the most singularly
diverse and interesting cruising runs of any resort you might care to visit.
Even the most mundane traverses have been cut with a sufficient number of
curves, dips, and rolls to make them as interesting as possible. Intermediate
families will absolutely love this place.
After another trip up the Quad,
we elected to drop over the ridge into Outback Bowl. Again, the trails here
are singularly long and offer great variety down their length. We elected
to traverse beyond the unloading station of the Snow Ghost Chair, and dropped
into the North Bowl Chutes. This terrain had been softened slightly by the
sun, but conditions remain less than stellar. Maintaining control required
the judicious application of our edges. This area is steep, no doubt about
it, and all of the runs in this area allow for easy excursions into the gladed
areas surrounding them.

Funneling through Cedar Park to
the base of Stella, we rode the fast 6-pack to the ridgeline. Traversing
skiers' right, we were suddenly faced with a real dilemma. Which glade run
does one choose first, as there are at least five main gladed areas serviced
by this chair. The problem was quickly resolved as son Jonathan was immediately
off like a shot down Kathy's Yard Sale, the closest run to the chair. This
lengthy trail has been lightly gladed to enhance a skier's experience, but
has not been thinned so much as to destroy its character as a glade. A short
warning is in order: all of the gladed runs in this area become slightly steeper
and more difficult as they progress, the reverse of what you might expect.
Fortunately, there are numerous bailouts available onto the regular trail
network at strategic points along the runs for those who suddenly find themselves
in over their heads. This run was immensely enjoyable, even in the hardpack
conditions. I can only imagine what a joy it must be to ski on the powder
day. Accordingly, we spent the rest of the morning yo-yoing the balance of
the gladed areas from the Stella chair.
Lunch was a quiet affair in a nearly
deserted base lodge. The resort offers the usual cafeteria fare at the expected
prices. An enhanced dining experience is available at the Selkirk Lodge for
those so inclined.
After lunch we elected to explore
the South portion of Schweitzer Bowl. Accessing this area is easy from the
Great Divide Quad, requiring only a downhill traverse for the desired distance
before dropping over the lip. As I have indicated earlier, only your imagination
limits the number of skiable lines through this vast area. Many of the named
runs access additional gladed terrain on either side. Daughter Jacqueline
and Jonathan were both interested in checking out the resort's Ground Zero
Terrain Park, located just south of the Chair One Double. With better snow
conditions, this park would be da bomb. As it was, the thought of slapping
concrete was a bit much for me while running on a full stomach. However,
I was unable to resist trying a few hits just to see if the lightweight Atomics
handled themselves better than my elephantine Salomons (they did).
After yo-yoing face of Schweitzer
Bowl for several runs, we elected to traverse back over to be northern regions
of the Outback Bowl and sample some of the lift served pseudo-backcountry
beyond the Siberia area. Several locals had advised that this area was the
most interesting at the resort. I can tell you that it is steep. However,
the sun had been working its magic a bit too harshly by this time, turning
the largely untracked snow into sticky glop. Embarrassingly, I bailed into
a series of hop-turns for about 750 vertical feet. Fortunately, the rest
of the family was experiencing the same level of difficulty. Chalk up one
bad decision to Dad.
As it was late in the day, we took
one last run down Schweitzer Bowl and parked our tired butts in the Selkirk
Lodge for some well deserved après-ski. The Lodge offers great ambience,
and as the kids dove into corn chip heaven, Briar and I reflected over a Moose
Drool Lager on a stellar day, one which would have been a stupendous day in
better conditions.
As we unanimously declared that
it wouldn't be long before we resample some of the Pacific Northwest's best
skiing, we also decided that Schweitzer was a pretty darned good blind date.