Gulmarg, India – The only international-level ski and snowboard resort in the Himalayas, Gulmarg in the India-controlled portion of Kashmir, has announced snow safety and grooming plans for its second winter of full operation.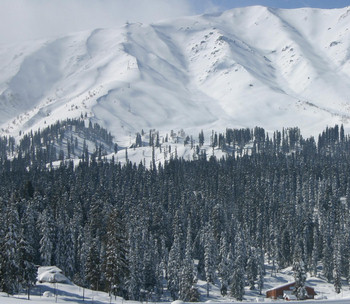 Gulmarg's gondola ascends 4,364 vertical feet from the village on a shelf in the Pir Pinjals to 13,058 feet on Mt. Apharwat, with ski and snowboard terrain draped below. (photo: SkiHimalaya.com)
"International experts from the U.S.A., with experience in high altitude snowpacks similar to Gulmarg, will monitor safety over the 2006-2007 winter," says Farooq Shah, Director of Jammu & Kashmir Tourism.
Seven international ski patrol and snow grooming experts will lead mountain operations over the peak winter period from December 20 to March 20 at Gulmarg, the name of which translates to the meadow of flowers. The team of international experts has been assembled by Peter Robinson, the Australian operator of Kashmir Powdercats who is assisting the resort in an honorary capacity.
"Gulmarg already has a mountain and lift-accessed ski and snowboarding terrain equal to anywhere," says Robinson. "In winter 2006-2007 Gulmarg will have world-class ski patrol and snow grooming expertise to match its fantastic terrain and abundant snowfall.
"The increase in snow grooming this winter significantly broadens Gulmarg's appeal to the intermediate skier and snowboarder market," adds Robinson. "Grooming of Mt. Apharwat's mid level and lower slopes this winter will also benefit advanced riders.
"Even in paradise, not every day is perfect, and the bigger investment by the resort in grooming this coming winter will improve riding conditions on non-powder days for advanced as well as intermediate skiers," Robinson concludes.
Gulmarg's village sits on a plateau on a ring-shaped mountain range overlooking the valley of Kashmir, just three miles from the Line of Control separating the Indian and Pakistani controlled sectors of Kashmir through more than 60 years of political tension. Gulmarg's gondola, designed by Poma of France, was completed in May 2005 after three decades of planning and construction, and at 4,364 feet offers skiers and snowboarders a bigger lift-serviced vertical rise than any ski resort in the U.S. It reaches an altitude of 13,058 feet on the shoulder of 13,530-foot Mt. Apharwat. Poma was retained in 2001 to finish the gondola section from a mid-station and restaurant at treeline at an elevation 9,937 feet to the summit. Several surface lifts service beginner and intermediate ski and snowboard terrain near the village.
The resort is located in the Pir Panjals, one of the six ranges that make up the Himalayas. Located at the western extremity of the world's highest peaks, the Pir Panjals are the first mountains hit by westerly and southwesterly storms which roll in over Indus River flood plains each year, providing the greater part of the Himalayas' winter snowfalls. Red monkeys, musk deer, brown and black bear, red foxes and even snow leopards wander the hills.
Gulmarg offers skiing and snowboarding at prices that would shock most westerners. An all-day lift ticket costs only US $11 to ski or ride from the base to the gondola's mid-station, or US $22 from the mid-station to the summit. Avalanche transceivers may be rented for US $2.50 per day. Alpine ski rental packages cost US $5.50 per day. An all-day session with a ski instructor costs a mere US $11 per day, or US $32 for a mountain guide. You can even rent ski goggles for US $1 per day.
Gulmarg is located 32 miles, or a two-hour drive from Srinagar, the capital of Kashmir. Indian Airlines, Sahara, and Jet Airways all fly to Srinagar from Delhi, bypassing a two-day drive on roads often closed by avalanches for weeks on end. Robinson's company Skihimalaya.com is now taking bookings for the 2006/07 winter, and prices for their regular 15-night itinerary start at US $960 per person and include centrally heated ski-to-gondola twin or double share accommodation, overnight accommodation in Delhi and Srinagar, most meals, and transfers between Srinagar and Gulmarg.
Prices for two weeks of guiding with Robinson's Kashmir Powdercats start at US $500. The Powdercats provide guests with local transport and guiding. Powdercat drivers and guides are local Kashmiris who have grown up in the area and include former Indian and Kashmir state ski-racing champions. In good weather, the company's guides focus on the gondola's high alpine terrain, including classic descents in excess of 1750 vertical meters (5,741 feet) from Mt. Apharwat to the Kongdoori Valley. In bad weather, the focus shifts to forested glades falling from Gulmarg to the valley below.