St. Anton am Arlberg, Austria – Most of us dream of walking in a winter wonderland, and this festive season I was fortunate enough to experience a genuine white Christmas in the picturesque resort of St. Anton am Arlberg.nNestling in Austria's westernmost province, St. Anton boasts a rich skiing heritage as well as arguably the most varied ski and snowboard terrain and best snow conditions in the Alps.

St. Anton, Austria.(Photo: FTO/Leigh Mytton)
Click image to view full-size and see our gallery of eight /images from St. Anton.
(photos: FTO/Leigh Mytton)
Alpine skiing was pioneered here in the late 1800s and the resort's first ski instructor Hannes Schneider (born 1907) developed the acclaimed Arlberg School technique that subsequently spread across the globe after Schneider eventually left Austria and went on to direct the ski school in North Conway, N.H., in the United States.
These days, with 280km of pistes connected by more than 80 lifts and numerous backcountry options, the skiing area offers much to those wishing to improve their skills. Being just one hour from Innsbruck and less than three hours from both Zurich and Munich in neighboring Switzerland and Germany, respectively, it's easy to reach as well.
After last season's superb snow conditions, it was with trepidation that I arrived in St. Anton in the run-in to Christmas. But my fears of a repeat of the disappointing conditions of winter 2006-07 in the Alps were abated by the white stuff already covering even the lowest runs into the village.
The celebrations started early when, just before Christmas, free entry to the resort's Rendl mountain was granted for one day to mark the opening of its state-of-the-art gondola. In short, no lift pass was required and cruising down the sun-kissed, uncrowded slopes of this small but perfectly formed area on a blue sky day provided the perfect opportunity to get my ski legs back.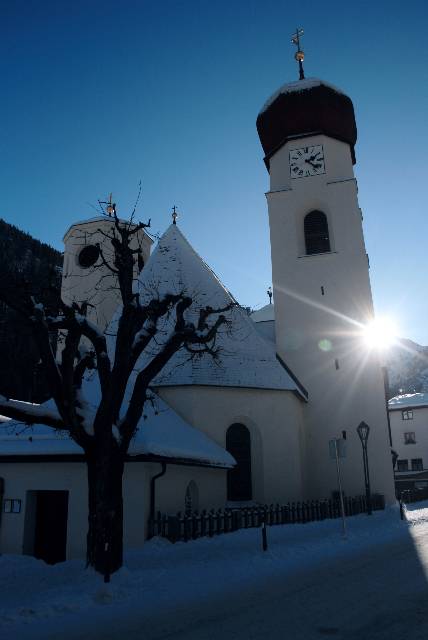 St. Anton, Austria.(Photo: FTO/Leigh Mytton)
Click image to view full-size and see our gallery of eight /images from St. Anton.
(photos: FTO/Leigh Mytton)
Such fun was had that my group chose to return to Rendl for the obligatory Christmas Day ski, but not before we had attended Midnight Mass in the village's quaint church with its historic frescoes and welcoming atmosphere. The finale – with lights dimmed and the congregation singing Stille Nacht (Silent Night) with full hearts – was magical to behold.
Every winter, the village's 2,500 population swells to more than 11,000, but tourists are greeted with open arms and made to feel a part of the community.
Austrians hold their main Christmas celebration on December 24, when some shops and restaurants opened for limited hours, but everything was back to normal for our big day, even if the weather had closed in and it was snowing like there was no tomorrow (a white Christmas indeed).
This made Rendl was an inspired choice for a group of varied ability in difficult conditions. No one was going to venture too far away and, with its selection of blue, red and black runs, there was something for all of us. And when it got too cold, we retreated to the mountain's new restaurant with its smooth, clean lines and panoramic views for hot chocolate and mulled wine.
But blue skies soon returned and we ventured up the space age Galzig lift to explore the main mountain, in the shadow of the jewel in the crown of this region, the 2811m Valluga mountain, known as the "Queen of the Arlberg".
The uber-exclusive resorts of St. Christoph, Lech and Zurs are also included in the lift pass. Lech and Zurs are a short bus ride away, but definitely worth a visit, especially if you're keen on culinary delights as they boast a reputed unprecedented concentration of award-winning restaurants.

St. Anton, Austria.(Photo: FTO/Leigh Mytton)
Click image to view full-size and see our gallery of eight /images from St. Anton.
(photos: FTO/Leigh Mytton)
But after a body-punishing 40km ride, food wasn't on my mind. St. Anton has a plethora of high-class hotels with wellness centers and a massage was my priority. The four-star Schwarzer Adler in the village center is seriously swanky, but massages start at €29 and most of the baths (including mare's milk – how wonderful!) are €32.
Thirty minutes of lying face down in a fluffy towel listening to soothing music while being smothered in essential oils was just what the doctor ordered.
I didn't want to get up when it was over. A big tension cloud had been lifted and when I finally ventured into the street, I walked home encased by a warm glow, despite it being -15 degrees Celsius.
The night before New Year's Eve marked this season's inaugural Schneetreiben show. Marketed as a multimedia show with open-air demonstrations, I wasn't sure what to expect when I ventured to the Alpine World Ski Championships stadium overlooking the village.
But it was breathtaking.

St. Anton, Austria.(Photo: FTO/Leigh Mytton)
Click image to view full-size and see our gallery of eight /images from St. Anton.
(photos: FTO/Leigh Mytton)
An hour-long presentation in German and English of the history of Arlberg skiing, illustrated by footage on a big screen and the skills of the local winter sports exports on the slopes, it culminated with fireworks and a torchlit descent by the village's ski instructors. This show takes place every Wednesday at 9 p.m. and, remarkably, it's free of charge.
Finally, it was time to say farewell to 2009. With funds running low (St. Anton can be a money pit – so much to do that it's hard to keep track of your cash), my group decided to party in the streets, armed with self-bought bottles of champagne.
It turned out to be the highlight of our celebrations. From 11 p.m. to 1 a.m., the sky was ablaze with fireworks and the streets filled with good-humored revelers.
The atmosphere was electric and we even felt a little sorry for the people who had paid to get into New Year parties and missed out on what was happening outside.
So a New Year has begun and the season's in full swing. Enjoy your winter sports in 2010 and, if you're considering a trip to Austria, make St. Anton your destination.
For More Information:

Author Leigh Mytton is a U.K.-based correspondent with First Tracks!! Online Media.