Richmond Hill (ON), Canada – Alleyoop double flatspin 720, double cork 1260 and switch 900. These park and pipe ski tricks look pretty radical, but they all have their basis in traditional acrobatics. No one understands that better than Canadian National Halfpipe Head Coach Trennon Paynter. That's why Paynter took his team to Skyriders Trampoline Place in Richmond Hill last week to train with one of Canada's top trampoline coaches, Dave Ross.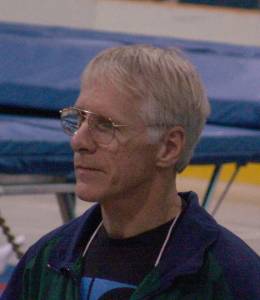 "He is an outstanding acrobatics coach and he's been awesome with our athletes," said Paynter of Ross, who coached the team through a progression of traditional acrobatic maneuvers.
Paynter, himself a level 2 trampoline coach who helped develop the Canadian Freestyle Ski Association's Air Coaching module, said his goal with the one-week trampoline camp was "to give the athletes new skills for flipping and spinning in the air – from traditional acrobatic and gymnastic skills and then progressing to our own freeride tricks.
"I'm a definite believer that the more ways you learn to manipulate your body through the air, the better and more controlled you'll be, the more tools you'll have in your arsenal and the safer you'll be because you'll be able to get out of difficult situations," Paynter said.
This is especially crucial for halfpipe skiers on the world circuit who are pushing the bar every year with new and more difficult tricks. "The sport's moving really fast," explained Paynter, "and we're pulling out all the stops to keep the Canadians ahead of the curve."
He said that his athletes have bought into the process of going back to basic acrobatic skills and understand their value as building blocks for more newschool tricks.
Likewise, he added, Ross has been equally open to learning the mechanics of the freeride moves that the athletes are also practicing at the gym. "[Ross] really understands the validity of what we're doing and is open to it. That's a refreshing attitude that I haven't always seen at gymnastic clubs," said Paynter.
Paynter is also excited about the "supertramp" that Ross built at the club – twice the size of a traditional competitive trampoline and with a much softer bed that allows athletes to jump extremely high. Paynter says the men on his team can get as much airtime on the supertramp as they do on the first hit of a halfpipe run – about 2.5 seconds.
Overall, Paynter said he and Assistant Coach Marc McDonell have been "blown away" by how much they and the athletes learned at the trampoline camp. He said the athletes far surpassed his expectations. Case in point: by the end of the week Justin Dorey was nailing back double full flips, in both directions (twisting left and right) – a truly amazing feat, and one that will certainly stand him in good stead next year in the pipe.