Grand Teton National Park, WY – A 33-year-old Wisconsin man is in critical condition in an Idaho hospital following an 800-foot fall while telemark skiing a couloir on Middle Teton in Wyoming.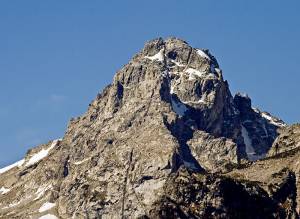 Ryan Redmond, of Delafield, Wisc., was descending the Ellingwood Couloir on the 12,804-foot mountain's south side on Saturday when he took a tumbling fall at the 11,500-foot level, according to a Grand Teton National Park spokesperson. Rangers believe snow conditions were a contributing factor in the accident, although they did not elaborate.
Two park rangers nearing the summit of nearby Nez Perce responded to the scene and reached the victim shortly after noon. After being evacuated to Lupine Meadows, Redmond was transported by helicopter to Eastern Idaho Regional Medical Center in Idaho Falls, where he is being treated for unspecified head injuries.
Redmond was wearing a climbing helmet and had an ice axe attached to his ski pole, according to park officials, but he was unable to self arrest on the firm snow. All members of his party used ice axes and crampons to climb up the Ellingwood Couloir.
Although from Wisconsin, Redmond is presently in Jackson as an AmeriCorps volunteer with Teton Science Schools. A statement released by the school indicates that doctors are "cautiously optimistic" regarding Redmond's recovery.