Ishpeming, MI – Located on Michigan's Upper Peninsula, the U.S. National Ski & Snowboard Hall of fame is pretty far from just about anywhere. With parameters set on my recent trip to the region that included holidays and family reunions, the prospects of visiting the Museum and Hall of Fame looked rather bleak. But then my wife intervened on my behalf and arranged for Bob Hendrickson of the Ishpeming Ski Club to meet us for a couple hours on a Sunday when the Museum and Hall of Fame is typically closed. So not only did I get to see the Hall of Fame, but I got a personal tour to boot!
The Hall of Fame is in an architecturally striking building with two different sweeping roof structures on the front and back. One looks very much like a quarter pipe, although a first descent of said pipe seems unlikely any time soon.  I started off by reviewing the 20-minute film that begins by reviewing the beginning roots of skiing before morphing into U.S. skiing and regional firsts to explain how and why the Hall of Fame is located in Ishpeming. Residents on the Upper Peninsula recognized the need for better organization of competitions in the late 1800's and early 1900's, mostly ski jumping at the time. As a result the National Ski Association was formed here in 1905, and the Hall of Fame is a direct offshoot of this organization. The National Ski Association transformed into the National Ski Areas Association, now located in the Denver suburb of Lakewood, Colo., but the Hall of Fame has remained in Ishpeming since the museum first opened its doors in 1947.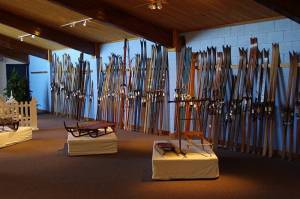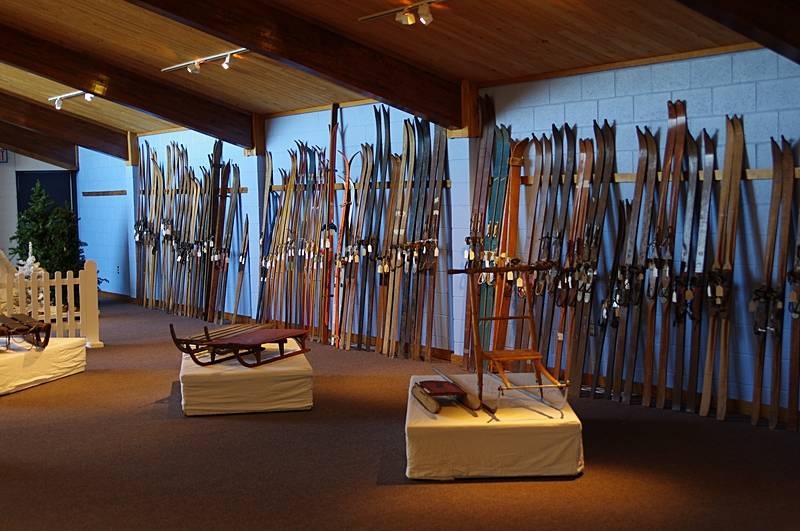 What's inside? It's a bit conflicted in some ways. It's a cross between a museum and a Hall of Fame. There are displays of historical skis, poles, a Bradley Packer, a few lift items and a tiny amount of snowboard stuff from Burton's early days. There is even a diorama of "D" (Daron Rahlves) via his gear auctioned off over the years and assembled by a donor. Almost as interesting to me was the library with skiing related magazines going all the way back, and lots of recent and historical ski books as well.
As you can imagine, much of the treasure sits in archives below the main museum which I was fortunate enough to see and photograph, thanks again to Hendrickson's hospitality. The collection is weighted heavily towards the earlier years of U.S. ski gear, films and more, with fewer items so far from the 70's and 80's. Museum officials rely exclusively upon donations to fill their collections and currently focus heavily on the Hall of Fame's annual inductions. A brief description of each inductee list listed on the U.S. National Ski & Snowboard Hall of Fame website. The current class of inductees includes such highly recognizable names as Daron Rahlves, Shane McConkey, and Glen Plake among the six-member class of 2010.
Those truly interested in skiing will find a half, or even a full day's worth of entertainment here. Personally, I wish I'd had a lot more time to glance through the library, which goes well much further back than my personal collection of magazines dating to 1972. And with some 6,000 visitors annually you'll surely not have to push the crowds out of the way, even on a day when the museum is officially open.
For more information, visit the U.S. National Ski & Snowboard Hall of Fame's website, www.skihall.org.
More Photos:
[nggallery id=5]