Squaw Valley, CA – The third annual Wanderlust Festival returns to the Sierra peaks of Squaw Valley USA in Lake Tahoe, Calif., July 28 through 31.  This four-day yoga and music experience is a place to relax, unwind, bend, dance, revel, and contemplate.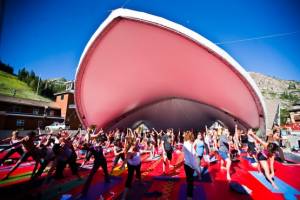 This year's Wanderlust Festival features expanded yoga offerings, more music, a complement of organic foods and biodynamic wines, and the same incredible scenery and community that made last year's event such a hit with attendees.
Wanderlust showcases a range of teachers, classes and styles to inspire and challenge all practitioners, from the curious beginner to longtime students.  Wanderlust has gathered the nation's top yoga teachers and experts to teach a full schedule of exciting classes and creative workshops around the clock, including classic presenters like John Friend, Seane Corn, and Shiva Rea, and new faces like Maty Ezraty and Noah Maze, at a selection of on-site venues.
Set against Squaw Valley's inspiring mountain backdrop, Wanderlust's main stage will feature views of KT-22 and Granite Chief peak. The centerpiece of the Wanderlust music experience, the Globetrotter Stage will host Michael Franti and Spearhead, the electronic dance-party mashups of Girl Talk, and the chants of Jai Uttal. There will also be a wide host of food and beverage vendors, art instillations, ambient performances and lounges.
"We're excited to bring Wanderlust back to North Lake Tahoe for the third year in a row," said festival co-founder Jeff Krasno. "Not only is Squaw Valley an extraordinary setting — it has a community that supports the underlying ideals of the event. We have a beautiful canvas to bring to life our values of yoga, music and nature."
Wanderlust also brings a host of culinary treats to Squaw Valley. New this summer, Wanderlusts hosts a two-night mountaintop Farm to Table Dinner at High Camp, el. 8200' including breezy summer platters featuring heirloom tomatoes, fresh mozzarella, free range chicken and striped bass. Wanderlust also brings "Wine-derlust" featuring an array of local, organic and biodynamic wineries to Uncorked in The Village at Squaw Valley.
For more information, visit www.wanderlustfestival.com.