Breckenridge, CO – Hilton Worldwide and Vail Resorts, Inc. have announced the signing of a franchise license agreement for a DoubleTree by Hilton hotel in Breckenridge. Currently the Great Divide Lodge, the hotel conversion project will open as the DoubleTree by Hilton Breckenridge in late 2011 following refurbishment and upgrades, just in time for Breckenridge's 50th Anniversary ski and snowboard season. It will be the first DoubleTree by Hilton mountain resort hotel located just steps away from the ski lifts in the United States and the 14th DoubleTree by Hilton property in Colorado.
"DoubleTree by Hilton is excited to introduce another outstanding hotel project in Colorado, this time in Breckenridge – one of the world's most renowned Rocky Mountain destinations filled with four outstanding seasons of recreational fun," said Rob Palleschi, global head, DoubleTree by Hilton.  "This project with the fantastic team at Vail Resorts underscores the unlimited opportunity for our brand to bring outstanding DoubleTree by Hilton destinations to a variety of incredible leisure travel destinations around the world."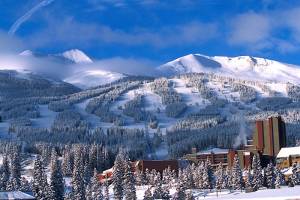 DoubleTree by Hilton Breckenridge will offer 208 guest rooms, nine conference rooms, a business center, a fitness center, the 9600 Grill & Restaurant, an indoor pool, hot tubs, and a full service sports shop with equipment rental during the winter only. The hotel is situated just steps away from the ski lifts of the Peak 9 base area, and is located just two blocks from historic Main Street Breckenridge.
"We are thrilled to bring the DoubleTree by Hilton brand to Breckenridge," said Jeff Jones, co-president and chief financial officer of Vail Resorts. "This agreement allows us to combine a classic hotel in a terrific location at the slopes of Breckenridge Mountain, one of the top ski resorts in the United States, with the DoubleTree by Hilton brand's fast-growing network that spans more than 250 hotel and resort locations in the world. With expanded customer reach through the Hilton HHonors guest loyalty program, we expect the hotel and Breckenridge ski resort to benefit significantly from this new partnership."