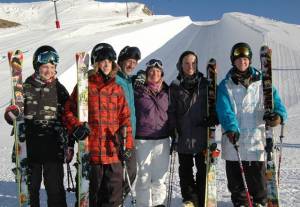 Lake Wanaka, New Zealand –On Tuesday the entire Wells family, including World Champion freeskier Jossi Wells turned up at New Zealand's Cardrona Alpine Resort to officially open the dedicated Pipe Platter ski lift that has been named after them.
Jossi Wells cut the ribbon alongside his brothers Byron, Beau-James, and Jackson, along with their parents Bruce and Stacy Wells. Bruce and Stacy first met at Cardrona 26 years ago before raising the four talented boys.
Cardrona's new Wells Pipe Platter lift allows faster laps through the resort's halfpipe, which means less hiking and more training for athletes preparing for the 2014 Winter Olympics in Sochi, Russia, where ski halfpipe has been added to the program for the first time.