Truckee, CA – The dam gates are open and the river is flowing, and rafting along North Lake Tahoe's scenic Truckee River is now open.
Those making a summer visit to the Sierra ski country surrounding the resorts of North Tahoe have had to wait for rafting this season as a banner snow year and lingering snowpack in the mountains kept downstream flows above the federally regulated levels required before water can be let out of Lake Tahoe.
Tahoe City-based Mountain Air Sports/Truckee River Rafting opened for the season last Friday, with Truckee River Raft Company following suit on Saturday. The companies offer self-guided, five-mile floats down the Truckee River.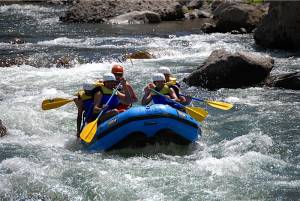 "Rafting the Truckee River is an absolute must-do every summer," said Director of Tourism Andy Chapman of the North Lake Tahoe Resort Association. "It's also one of Lake Tahoe's most popular families activities because its gets all ages out on the water, introduces rafting to the kids, and, of course, gets all parties wet on a warm, sunny day."
Most trips are leisurely and take two to three hours to complete, with patrons exiting at River Ranch Lodge near Alpine Meadows Road near the ski resort along Highway 89 between Lake Tahoe and Truckee. Guests can park in Tahoe City and take free shuttles back to their vehicles after the float anytime before 6 p.m. Hours of operation are 8:30 a.m. to 3:30 p.m. daily, weather permitting, and footwear is mandatory. Trips include parking, shuttle, paddles, life jackets and commercial rafts for two to 20 people. Group rates are available.
One of the best ways to end a day on the river is dining alfresco at one of North Lake Tahoe's restaurants. River Ranch Lodge is always a favorite, especially with its outdoor patio that gives guests a front row seat to rafters exiting the Truckee River. Locals rave about the pulled pork sandwich served on a ciabatta with bleu cheese coleslaw and Southern barbeque sauce. River Grill in Tahoe City is also a hotspot and has one of Lake Tahoe's best happy hours. Definitely try the macaroni and cheese with applewood smoked bacon, tomato and New York sharp white cheddar. And for some of the best margaritas in town, head to the historic Blue Agave in Tahoe City and take a load off where Baby Face Nelson hid out from the authorities back in Tahoe's heyday.
After dinner, North Lake Tahoe pulls out all the stops with free, live music outdoors every night of the week, except Mondays, all part of the destination's new High Notes – North Tahoe's Summerlong Music Series, running now through September. Ticketed events are also plentiful and include headliner performances as part of the Lake Tahoe Music Festival and live music at the Lake Tahoe Shakespeare Festival's picturesque venue, Sand Harbor State Recreation Area, along the lake's East Shore.